American parliamentarians joined the "demands" to release the prisoners sentenced to 15 years of imprisonment by the Pskov court for spying the Estonian security police officer Kohvera. Thus, during its visit to Tallinn, the American delegation, which includes senators John Barasso, Sheldon Whitehouse and John McCain, accused Russia of "violating generally accepted norms."
McCain, who decided to support Kohver wearing a yellow ribbon on his jacket, said that he demanded "justice from Moscow" and knows that Estonia has to deal with a "thug named Putin." McCain quotes
portal delfi
:
The unjust punishment of Eston Kohver is unacceptable and once again tells us that we are dealing with a thug and a sassy man named Vladimir Putin. An innocent man was sent to prison. We demand his immediate release so that he can return to his country and to his family.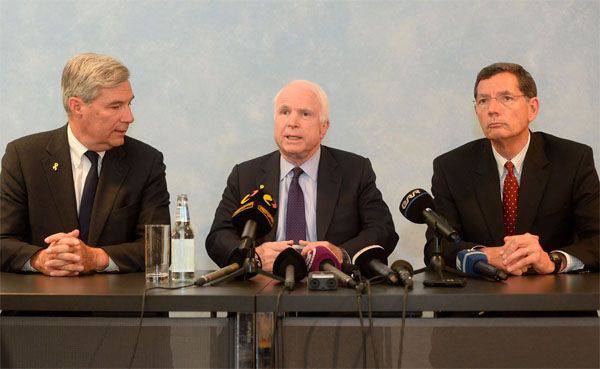 Representatives of the authorities of the state, which are enough for foreigners literally around the world, often appeal to "justice", often throwing them into American prisons without any valid reason. Representatives of the authorities of the state, who have built up secret prisons in different parts of the world, where people are not just detained without trial, but also apply medieval torture to them, call for "justice". For some reason, McCain did not recall this in Tallinn ...
It should be noted that the American parliamentarians are visiting the Baltic States to inspect the representatives of the US military contingent and American military equipment stationed here.
Meanwhile, in Estonia itself, it was first announced that the process of signing an agreement on the state border with the Russian Federation "could be linked to the fate of Kohvera", but then the Estonian ambassador to the Russian Federation by the name of Luyk expressed himself in the spirit that "this may not happen "-" the question of the fate of Kohvera on the signing of the contract will not affect. "