Why is one of the largest armies in the world afraid to participate even in local conflicts?
Egypt is traditionally considered to be the informal leader of the Arab world due to its demographic potential and very powerful by regional standards of industry and the armed forces. Temporary obstruction, which the Arabs staged Egypt after they concluded peace with Israel, is now firmly forgotten.
The events of the beginning of 2011 on Tahrir Square followed by the overthrow of President Mubarak made Egypt almost the center of the world. After the "victory of democracy" in power in the country, radical Islamists in the form of "Muslim Brotherhood" had time to visit, their representative Mohammed Mursi became president of the country. External support to the Brothers was provided by the same two countries that created the Islamic Caliphate, Qatar and Turkey. But Saudi Arabia and the UAE were against it. They contributed to the fact that in July 2013-th military overthrew Mursi and returned to power. New Mubarak was a young and energetic Field Marshal Al-Sissi. The West has been protesting against the "trampling of democracy" for some time, but quickly reconciled.
The position of Riyadh and Abu Dhabi is explained by the fact that these countries really need the Egyptian army as a guarantor of Iran.
The Egyptian Armed Forces have a vast experience of wars with Israel, albeit a very sad one, although the beginning of the October 1973 war of the year was a triumph for the Egyptians. First, the USSR and then the USA invested huge funds in the training and equipping of the armed forces of Egypt, which eventually became one of the largest in the world.
There is something to crush

The ground forces include three field armies, each comprising three army corps. In addition, 27 subordinate brigades are directly subordinated to the ground forces command - two missile, six anti-tank, self-propelled 12, six engineering.
"Both the current and the previous presidents of Egypt were elected with the result of more than 90 percent of the vote, but at the same time the turnout was just over 50 percent - different halves of the electorate voted"
Egypt has a very significant missile potential, including 6 PU (24 missiles) of the North Korean MRT Nodon (with a range of up to 1300 km). OTR (range - 500 – 900 km) - 92 PU (390 missiles) of the Soviet Р-17 of several modifications, as well as 6 PU (30 missiles) on their base "Al-Badr" and 10 PU (50 missiles) of the North Korean "Hwason- 6 "(also created based on the P-17). TR (range - less than 100 km) - 60 PU (360 missiles) own "Sakr-80", 48 PU (288 missiles) Soviet "Luna".
The basis of the tank park is made up of the American МNNXXА1130 "Abrams" 1, most of which are assembled under license in Egypt. In addition, there are a significant number of obsolete machines — 1 American M1935 (60 A808, 1 A1127), 3 "Ramses 425" (Soviet T-2, modernized in Egypt according to Western standards), up to 54 Soviet T-610 (some of them in storage), up to 62 T-269 and up to 54 T-338 (most of those in storage, the total number is hardly more than 55).
There are more than 600 BRMs in service - from 46 to 300 of old Soviet BRDM-2, 112 of no less old American Commando Scout and 33 М981 (version of BNNXX BTR), 113 of modern South African RG-180M. There are more than 32 BMP - 2500 Dutch YPR-541, 765 own EIFV (American BTR M1200 with a tower from the Bradley BMX M113) and 2 SIFV (М800 with 113-mm gun); in addition, from 25 to 190 Soviet BMP-210 is in storage. The number of armored personnel carriers exceeds 1. This 4000 own "Fahd-635" (with the tower of the Soviet BMP-280) and 2 "Fahd-XNUM", 765 American V-240 and 180 M150, 140 of the Dutch YPR-113 (similar to the BMP, but without a gun), XNXX Dutch YPR-57 (similar to the BMP, but without a gun), 765 Dutch YPR-217 (similar to the BMP, but without a gun), XNXX Dutch KNUMX, 600 (similar to the BMP, but without a gun), 200 -250P, 60 – 230 Soviet BTR-40, 250, APCs, 50, 250, BTR-50PM (upgraded in Belarus, more 175, BTR-152, in storage), 250, BTR-62, APC, 200, BTR-250; -64, up to 650 own Walid. However, the combat capability of at least half of the BTR fleet is highly dubious, since almost all vehicles are seriously outdated morally and physically. The actual number of combat vehicles in the BRM, BMP and BTR can be much lower than this.
Egyptian artillery is extremely numerous. SAU: 124 "own" SP-122 (Soviet howitzer D-30 on American ACS M109 chassis), 624 itself M109 (420 A1 / 2, 204 А5, 155 mm), 144 American МXNXXXXXXXXXXXXXXXXXXXXXXXXXXXXXXXXXXXXXXXXXXXXXXXXXXXXXXXXXXXXXXXXXXXXMXXXXXXXXXXXXXXXXXXXMXXXXXX Towed guns: 110 Chinese Tour 2 and 203 similar Soviet D-48, to 60 D-144, 74 M-200 (even 30 stored), 200 A-30 (150 mm) to 50 Tour 19 and M-122 ( 500 mm), up to 59 D-46 (still 130 in storage), 150 20-mm ML-120 (before 36 in storage), up to 152 Finnish GH-20 (100 mm), 400 Soviet C-52 (155 Soviet X-NNXX) ); 24 BS-23 (180 mm) and 200 D-3 (100 mm) in storage. Mortars: 150 Heluan (a copy of 1-152 Chinese Tour) and 2500 M63 (1 mm), 1800 American M224 and 60 self-propelled M1750X252 (350 mm), 125 Heluan X-color XHUMXX1 (81 mm), 1250 "Heluan"; 69B 37, 850, 2, 14, 82, 390, 30, 150, 106, 2, 107, 100, 1938, 600, 2 self-propelled M-300 (on the T-2 chassis), 11 self-propelled М250А43 (mm 48), 765 М-120 and 120 М-54 (36 mm), 1064 М-3 (120 mm).
A lot of attention is paid to rocket artillery, a number of domestic MLRS of the Sakr family have been created on the basis of Soviet, Chinese and American designs. The number of MLRS exceeds 1200. It 250 native VAP-80 (80 mm), 96 towed 107-mm RL-812 (the local equivalent of the Chinese Tour 63), 96 Soviet BM-11, 48 «Sakr-8», 50 «Sakr-10», 72 «Sakr -18 ", 130" Sacre-30 ", 100" Sacre-36 ", 245 BM-21" Grad "(122 mm), 36 Czech M-51, 36 South Korean K-136" Koren "(130, X-NUMX Korean X-NUMX 32 X-NUMX Korean X-NUMX) Soviet BM-14 (140 mm), 48 American MLRS and 20 own "Sakr-45" (227 mm); 48 Soviet BM-24 (mm 240) are in storage. As in the case of armored vehicles, the actual number of artillery systems may be significantly less than this, since most of the guns, mortars and MLRS are seriously outdated.
There are more 3500 ATGMs - up to the 1200 Soviet Malyutka, 220 French Milan and 260 English Swingfire (produced under license in Egypt), 1867 American Tou (including 482 self-propelled 182 M901, NNUMX -PR-PR-YPR-YPR XPR-YPR). ). All ATGMs, except for Tou, are seriously outdated.
The armed air defense consists of 121 short-range air defense missile systems - the modern American Avenger 75 and the old Chaparel 26, the Strela-20 Soviet 1. The number of MANPADS reaches 3 thousands - 164 American "Stinger", 600 Russian "Igla", to 2000 Soviet "Strela-2" and their local counterparts "Ayn al-Sakr". There are more than 300 ZSU - 108 American М163 (20 mm), 218 Soviet ZSU-23-4 (23 mm); 40 Soviet ZSU-57-2 and 100 Czechoslovak M53 / 59 (30 mm) are in storage. There 72 air defense system "Amun" (each including American missiles "Sparrow" and the Swiss anti-aircraft guns GDF-005) and 220 ZRPK chassis BTR M113 with a gun ZU-23-2 - 148 «Neal-23" (MANPADS 'Ayn al Sacre ") and 72" Sinai-23 "(with Stinger MANPADS). Anti-aircraft guns: 72 American M167A3 (20 mm) from 280 to 650 Soviet memory-23-2 (23 mm) from 200 to 700 61-K (37 mm) from 200 to 600 C-60 (57 mm) to 400 KS-12 (mm 85), from 200 to 300 KS-19 (mm 100), to 120 KS-30 (mm 130). Most of the Soviet installations are very outdated, their combat capability is extremely doubtful.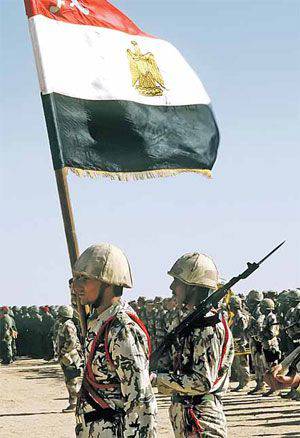 The Air Force has approximately 500 combat aircraft. The most modern of these are the X-NUMX F-222 American fighter (16 A, 26 B, 7 C, 145 D) and the 44 French Mirage-19 (2000 EM, 15 combat-training VM). 4 of the newest French "Rafale" B (a combat training version) has just been received, a total of 3 "Rafale" is supposed to be purchased. All other aircraft are obsolete, so not all of them have retained their combat effectiveness. It's up to 24 American F-34E, to 4 French "Mirage-75» (5 SDD, 6 SDE, 30 SSE, 23 E16) from the 2 32 to Soviet MiG-55 (21-25 MF to 30 PFM, 9- 7 U / UM) and from 16 to 57 of their Chinese counterparts J-74, as well as up to 7 reconnaissance created on the basis of combat aircraft - up to 12 Mirage-6SDR, up to 5 MiG-6Р.
In the Air Force ranks 4 American aircraft DER (2 EC-130H, 2 "Beach-1900") and 7 DRLO (E-2С).
Transport planes: 22 American C-130H (still 1 in storage), 1 VC-130H, 1 Beach-200, 8 Beach-1900C, 4 Falkon-20, GNUMX Gastream, and GNSTM, GNUMX X-NUMX, FN-7, 8 5 1 3D (still 74 in storage), 200 Ukrainian An-1TK-340A, 20 European A-295, XNUMX Spanish С-XNUMX.
Training aircraft: 39 French-German Alpha Jet (27 MS1, 12 MS2), 54 Brazilian EMB-312, German X-NUMX Grob-74EG, 115 – 106 Chinese K-120, XNHXXXXXXXXXXXXX, 8, 11, 39 and 1 L-42E (still 59 in storage), 5 Polish Z-10. The Alpha Jet, L-143, L-39 aircraft can be used as light attack aircraft.
Whole army
aviation
Egypt is part of the Air Force. These are 46 American Apache AH-64D combat helicopters, 2 Commando Mk2E RER helicopters (2 more in storage), more than 200 multi-purpose and transport helicopters - 75 French SA-342K / M / L, 3 European AW-109 and 2 AW-139, 1 Soviet Mi-6, up to 51 Mi-17, 39 Mi-8, 18 American CH-47D (1 more in storage), 4 S-70, 4 UH-60L, 22 UH-60A, 19– 23 "Commando".
Air defense is a separate type of air force from the Air Force of Egypt In his arsenal has 18 batteries (108 PU) US SAM "Improved Hawk" and 4 - SAM "Patriot" (32 PU), 44 battery Soviet of S-125 (88 stationary PU) and 10 - a modernized version of the SAM (60 Mobile PU), 40 batteries of the Tayer El-Khob air defense missile system - a local modification of the Soviet C-75 SAM (240 PU), 10 batteries of the Russian Buk (30 PU) SAM, 14 - Soviet Kvadrat (84 PU) SAM, 40 - Amun systems (80 PU ZSU Aspid, 80 guns GDF-005), 315 - short-range SAM systems (16 Russian Thor, 144 French Crotal, 155 American x "Chaparel"). Of all the above air defense systems, only the Patriot missile system, the Buk and Thor missile systems can be considered modern.
The Navy, like other types of the Armed Forces of Egypt, is very large, but they have a lot of outdated technology.
The submarine fleet is weak, with only 4 of very old Chinese submarines of the 033 project.
There are 11 frigates - 1 "Tahya Misr" (newest, French pr. FREMM), 4 type "Alexandria" (American "Oliver Perry"), 2 type "Damyat" (American "Knox"), 2 type "Al Zafer" ( Chinese pr. 053H1), 2 type "Abukir" (Spanish "Descubiert"). The frigate Tariq and the destroyer El Fateh of the British 40-s are used as training.
The Navy has 4 of the newest American rocket boats of the "Ambassador-3" type, the English 6 of the Ramadan type, the German 5 of the Tiger type (148 X), the 6 of the Chinese Hegu (024 X), 4 of the Oktober type "(Former Soviet pr. 183, but with the Italian PKR" Otomat "; another 2 of such boats are in sludge), 8 of the Soviet project 205 (still 2 in reserve).
There are numerous patrol boats: 4 Chinese type "Hainan" (4 is still in reserve), 6 Soviet project 206 (former torpedoes with TA removed, 4 boats are installed instead of RSRS BM-24), 4 Chinese type "Shanghai", 11 American type "Swift".
Mine-sweeping forces include the American Osprey 2, the Dat Assawari-type 3 and the Safaga type (American), from 2 to the Asyut-type 4 (Soviet Ave. 6), the 254 of the Aswan type (Soviet 4), 266 Finnish minzaga boats of the "Tuima" type (former missile boats of the 4 Ave.).
Landing Forces - 3 of Polish TDK of project 770, 9 of Soviet landing boats of project 106.
The coastal defenses include the 3 PU of the Italian OCR missile, several of the Soviet SSR 4K87 Sopka, and the Soviet SM-4-1 (130 mm) guns.
Naval aviation incorporates X-NUMX US anti-submarine helicopters SH-10G and 2 "Sea King" (still 1 in storage), 3 French multi-purpose SA-9.
Despite a very high proportion of outdated technology, Egypt has a lot of it. Such a mass can crush any adversary in the Middle East (except, of course, Israel and Turkey). That is why the Egyptian army is so necessary to the monarchies, because their own troops are strong only on paper (which is now remarkably confirmed by the Saudi epic in Yemen).

Someone else's war - to split
But Egypt does not burn with a special desire to fight, despite direct funding from Saudi Arabia and the United Arab Emirates. The Egyptian military openly hates the "Islamic Caliphate", but so far only limited to air strikes and actions of special forces against its "branch" in Libya, not engaging in hostilities in Syria and Iraq. The Egyptian army could easily crush the Housits ​​(Yemen's military potential is described in the article Tribe, Forward, Military-Industrial Complex, No. 24, 2015, it is an order of magnitude weaker), but so far even the Air Force practically does not participate in the bombings, only the Naval Forces block the coast Yemen to prevent khosuits
weapons
from Iran.
The reason for the passivity of Cairo, apparently, is that the Egyptian society is split almost in half. The militants in power are supported by an educated urban population, overthrown by the Muslim Brotherhood - peasants and urban "lower classes". It is significant that both the current and the previous presidents were elected with the result of more than 90 percent of the votes each, but the turnout in both cases was slightly more than 50 percent - different halves of the electorate voted. An attempt to participate in a foreign conflict with a very high probability will provoke a civil war in Egypt itself. Especially since the Islamic Caliphate has already come here, which launched an active terrorist war in the Sinai Peninsula. Here, the Egyptian Armed Forces have already lost several dozen servicemen, the M60 tank, at least two YPR-765 infantry fighting vehicles. The military all understand this perfectly. In addition, not the fact that they are generally going to serve their Arabian sponsors.
Thus, although the Egyptian power could well become a decisive factor in the region, at the moment it is actually paralyzed for internal political reasons.