If only recently, the so-called "Juncker quotas" (quotas for resettlement of Asian and African refugees) were discussed in relation to the countries of the European Union, which expressed obvious dissatisfaction with the voluntary-compulsory measures of Brussels, now the range of objects for discussion is clearly expanding. Literally the other day, materials appeared in the Ukrainian press stating that the EU leadership is ready to extend "migration quotas" to those countries that wish to become members of the European Union. - As if in order for rushing EU members to underline their commitment to the "European ideals" and prove that their policy towards European integration has not changed.
If Jean-Claude Juncker is really going to test for the ardent feelings of the suffering people before joining the European Union, then this is a wonderful idea in all respects of Brussels! It is known that only in the first half of 2015 of the year (and this is only according to official data of Brussels) more than a quarter of a million immigrants from the countries of Asia and Africa arrived in the EU countries, most of whom settle in Italy and Greece - just to these countries from Africa is closer to the sea. The quotas imposed by the European Union provide for the resettlement of approximately 40 thousands of refugees by 2017 in the countries of the "European Union Brotherhood". That is, 40 thousands will be settled with the allocation of funds from the budget for these needs, and the rest, excuse me, what to do? ..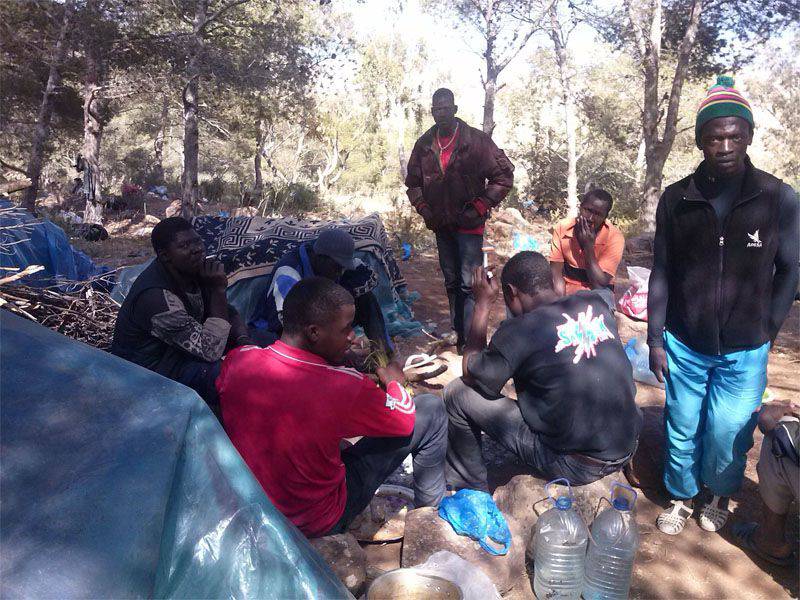 Obviously, such a question was asked to Mr. Juncker by the same Italians and Greeks, the island territories of which are literally bursting at the seams from the influx of Kurds, Arabs, Afghans and other representatives of nations in whose countries of residence the "democratic coalition" conducted or still conducts bloody military operations.
The logic of the Kurds, Arabs and Afghans looks something like this: you (with your own or those of others) bombed our houses, turned into ashes the already not the most developed economies, and therefore now think how and where to settle us on your own territory. Southern Europe has its own logic on this point: if we (EU countries) live in one union and express, as it were, common interests, then let's share some of the "guests" in other states of our union so that everyone will be in equal conditions. In turn, Brussels is guided by its logical principles: we, of course, intend to resettle the "guests", but the budget is not as much as you, the Greeks and Italians, believe, and therefore are ready to fork out for the resettlement of about 40 thousands of refugees. Athens and Rome (and not only they, of course) include "additional arguments", stating that 250 thousands minus 40 thousands are 210 thousands, moreover, they arrived only this year and only according to official services, and therefore where should you send those who enters the EU, but does not fall under quotas? ..
Apparently, this issue Brussels really cares, because uncontrolled migration can lead to horrendous consequences not only for the European economy, but also for the European Union as such. After all, at the moment it is simply unrealistic to trace whether this or that refugee from Somalia, Libya, Afghanistan or Syria belongs to one of the terrorist organizations that have taken root in Europe itself? The growing financial base of the same "Islamic state" may well become the basis for the distribution of members of an extremist group in the European Union countries, which frankly "do not catch mice" —not able to catch, because, excuse me, the "mice" already have millions ... And Well, tolerance ...
In this situation, Brussels, as they say, God himself ordered to pay attention to those states that so want to join the EU. Among them are Ukraine, Georgia, Moldova, a number of other countries, including, for example, Serbia, whose authorities continue to declare that the priority of foreign policy is work aimed at integration into the European Union.
And what ... The same Ukraine, whose authorities on any occasion pose against the backdrop of the European flag with the stars, is a wonderful field for the continuation of Western experiments. Brussels understands perfectly well who "pays a girl, he dances her," and therefore the multibillion-dollar loans allocated to Kiev are for good reason ... Sooner or later, Kiev, who is not able to repay loans under current conditions, will have to accept the proposal of Brussels, if any. And in fact, if it arrives, for the Ukrainian authorities this will become an offer that cannot be refused ... Try refuse - then the drain button, which the EU not only peeks at, but also occasionally slightly presses as a "laboratory experiment", to the fullest.
Yes, and American partners, implementing the manual control of Ukraine, will only be happy if the territories of Ukraine emptying from the growing emigration will be filled with African and Asian "friends." This USA kills several birds with one stone. Firstly, another destabilizing factor appears near the Russian borders (after all, it's difficult to call the stabilizing element the same Somali or Afghan refugees ...). Secondly, Europe will have to strain its economy again in order for the resettlement to go according to plan, and this is an opportunity for the United States to once again beat Europe economically. Thirdly, Washington has an additional argument in favor of expanding its military presence in Europe - they say that not only "aggressive Putin's Russia" threatens you, but also refugees, a certain group of which may well belong (or will be declared the same state) "non-democratic" extremist organizations.
And the most interesting thing is that if the proposal to accept a couple of (for a start) hundreds of refugees from Arab countries from Yunker to Poroshenko and Yatsenyuk goes, then Poroshenko and Yatsenyuk will have to find an excuse to declare the influx of refugees "useful" for Of Ukraine. Naturally, there will be an argument about "qualified personnel" from Somalia and Eritrea, which "will save the economy of Ukraine" ...
Another thing is that, to put it mildly, not all African and Asian refugees feed on hopes of finding themselves in Ukraine, Georgia or Moldova. But it's not a problem. In the EU, with hints of Washington friends, they will pick up those who want to go, and along the way (in the bushes) they will also find
weapon
, and not at all in case of self-defense ...