Drug use by the US military is becoming widespread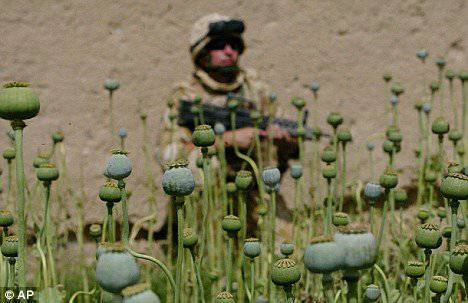 Sixty-four military sailors were dismissed from the current US Navy for the use, storage and distribution of synthetic drugs.
Of the total number of punished 49 people served on the aircraft carrier "Carl Vinson", from whose board in the Arabian Sea in early May, the body of Osama bin Laden, liquidated in Pakistan by American special forces, was buried.
This was announced on Thursday by Vice Admiral Herald Beeman, commander of the 3 fleet of the Navy, whose units are stationed in the port of San Diego (California).
"The attitude of the Navy to drug abuse is clearly intolerable. The use of synthetic drugs, including Spice, is prohibited. Drugs put the lives of seafarers and the success of military operations at risk, undermine combat readiness and morale among the troops," Beman said in a popular statement. He informed that the investigation, in which the guilt of the crew members of the aircraft carrier, the nuclear submarine "San Francisco" and the floating dock-tanker, was being established, continues.
The internal investigation was initiated after three sailors from the "Carl Vinson" were caught smoking "Spice". Among the excluded from the current composition of the Navy were also sailors engaged in the spread of drugs.
Spice is called a smoking mixture with a psychoactive effect. Synthetic substances in the spice are banned in many countries, including the United States and Russia.
As the official representative of the US 3 fleet, Captain Greg Hicks, said, it was decided not to make criminal charges, however, a number of violators may appear in the future before the tribunal, Vzglyad.ru reports.
Get rid of bad habits of the US Navy troops could still being cadets of the US Naval Academy. In December 2010, the American edition of NavyTimes published information that from five to ten cadets of the US Naval Academy smoked and distributed spice for money. The NavyTimes report referred to the Navy Criminal Investigation Service (TFR) and the US Navy Naval Academy, which began investigating the incident after fellow students witnesses reported the violation.
"The Navy Criminal Investigation Service has been notified of probable drug use by cadets of the Naval Academy in recent months and is conducting an appropriate criminal investigation. The academy's leadership is fully informed about the progress of the investigation and actively cooperates with the investigation," said Klein.
The US Naval Academy trains officers for the Navy and the Marine Corps. Founded in 1845 year. Located in Annapolis, Maryland. Admission to the academy takes place mainly on the recommendation of congressmen. Upon graduation, most cadets enter the Navy service in the rank of ensign (junior officer rank) or in the marines in the rank of second lieutenant.
Ctrl Enter
Noticed a mistake Highlight text and press. Ctrl + Enter