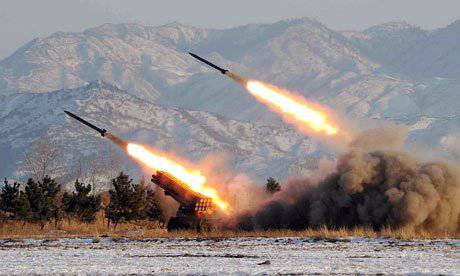 The US will spend 700 billions of dollars over the next decade on nuclear weaponwhile Russia and Pakistan are among those who view nuclear weapons not only as a deterrent.


According to an authoritative report published on Monday, the nuclear powers of the world plan to spend over the next decade hundreds of billions of pounds on modernizing and improving nuclear warheads and their means of delivery.
A report by the British American Security Information Council (BASIC) warns that despite government budget constraints and international disarmament rhetoric, all data points to a new and dangerous "nuclear weapon era." He notes that the US will spend $ 700 billion (£ 434bn) on nuclear weapons over the next decade, while only one Russia will spend at least $ 70 billion on nuclear weapons delivery vehicles. Other countries, including China, India, Israel, France and Pakistan, are expected to spend serious sums on tactical and strategic issues. ketnye complexes.
In several countries, including Russia, Pakistan, Israel and France, nuclear weapons are currently assigned roles that go far beyond deterrence, the report says. In Russia and Pakistan, as the report warns, nuclear weapons are intended to be "combat roles in military planning."
The report is the first in a series of papers for the Trident Commission, an independent interparty initiative created by BASIC. Its leading members are the former Secretary of Defense for the Conservatives, Sir Malcolm Rifkind (Sir Malcolm Rifkind), the former leader of the Liberal Democrats and the press secretary of the Ministry of Defense, Sir Menzies Campbell, the former Minister of Defense for the Laborites, Lord Browne.
In their opinion, there are compelling arguments for a fundamental revision of the UK's nuclear policy. Despite the fact that conservatives in the coalition government of Great Britain declare their desire to retain a nuclear system based on Trident missiles, they nevertheless agreed to a more economical replacement for the Trident, since according to the latest official estimates only four new nuclear missile submarines should cost £ 25 billion Liberal Democrats are considering other alternatives. Interesting article security analyst Ian Kearns (Ian Kearns), entitled Outside the UK: Trends in other nuclear powers.
The analyst warns that Pakistan and India appear to be seeking smaller, lighter nuclear warheads, which will allow them to increase the radius of action, or they can be deployed on medium-range tactical missiles which are not assigned to "strategic" roles. "In the case of Israel, the size of its nuclear warheads of cruise missiles will increase the submarine fleet. It also seems that the country uses independent launches of its satellites for the further development of intercontinental ballistic missiles (ICBMs)," the report says.
The presence of new programs for the development of nuclear weapons is explained by the vulnerability to nuclear and conventional forces being developed in other countries. For example, Russia expressed concern about the US missile defense system and the development of conventional rapid reaction force programs (Conventional Prompt Global Strike). China expressed similar concerns about the United States, while India's nuclear plans are driven by fear of China and Pakistan.
Pakistan justifies its nuclear weapons program, citing the superiority of India in the conventional armed forces, the report says.
The report describes each of the countries:
• US plans to spend $ 700 billion on nuclear weapons over the next decade. An additional $ 92 billion will be spent on new nuclear warheads. The US also plans to build 12 nuclear-powered ballistic-missile submarines, nuclear-based air-launched cruise missiles and bombs.
• Russia plans to spend $ 70 billion to improve its strategic nuclear triad (land, sea, and air delivery vehicles) to 2020. It is developing mobile ICBMs with multiple warheads and a new generation of nuclear submarines capable of carrying both cruise and ballistic missiles. There are reports that during
Over the next decade, Russia also plans to equip 10 army brigades with short-range missiles capable of carrying nuclear weapons.

• China is actively expanding its arsenal of medium-range and long-range mobile missiles equipped with separable warheads. Up to five submarines capable of launching 36-60 marine ballistic missiles that could provide a continuous maritime component are under construction.

• France has just completed the deployment of four new submarines equipped with longer-range missiles with a "more reliable warhead." It is also upgrading its nuclear bombers.

• Pakistan increases the range of its Shaheen II missiles, develops nuclear cruise missiles, improves the design of its nuclear weapons, and also works to reduce the size and weight of warheads. In addition, it is building new reactors for the production of plutonium.

• India is developing new versions of its ground-based Agni (Agni) missiles capable of reaching the entire territory of Pakistan and most of China, including Beijing. She has developed a shipboard nuclear cruise missile and plans to build five submarines with ballistic nuclear missiles.

• Israel is increasing the range of its Jericho III (Jericho III) missiles, as well as developing the capabilities of the ICBM, expanding the submarine fleet armed with cruise missiles with nuclear warheads.

• North Korea in the 2010 year introduced a new Musudan missile with a range of up to 2500 miles and capable of hitting targets in Japan. She also successfully tested Tepkodon-2 (Taepodong-2) with a possible range of more than 6000 miles, which is enough to reach half of the continental United States. However, the report says: "It is unclear whether North Korea has developed the ability to produce nuclear warheads of sufficiently small size to equip these missiles."

Iran's nuclear aspirations are not covered in the report.