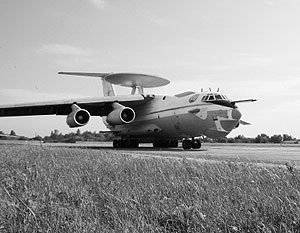 The modernized multifunctional complex A-50U, designed for radar surveillance and guidance, was put into service with the Air Force, said Colonel Vladimir Drik, the spokesman for the press service and information department of the Defense Ministry for the Air Force.
"On the A-50 aircraft, work was carried out on a deep modernization of the existing radio engineering complex, as a result of which a number of indicators of the onboard radio engineering complex A-50U were significantly improved," Drik said, Interfax reports.
In particular, according to him, the capabilities of the radar station for detecting various types of airborne targets, including helicopters, cruise missiles, and supersonic aircraft, have been expanded. Modern computing facilities have been used, a satellite communications station has been modernized, and reliability indicators of the onboard complex have been significantly increased.
Airplanes of the A-50 radar patrol and guidance, based on the IL-76 serial aircraft. Began to enter service with the Air Force 1984 year.
The crews of A-50 in 2011 took an active part in providing major exercises, including international ones - "Watchful Eagle-2011", "Watchful Sky-2011", "Center-2011".