The United States discovered in space a Russian spy satellite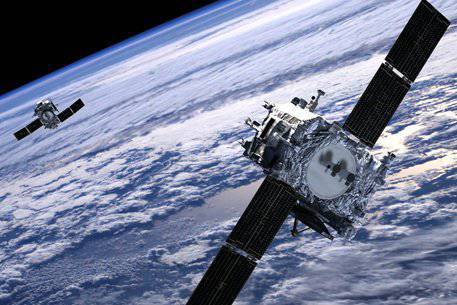 The Russian military satellite "Cosmos-2472", which, according to American experts, the Cobalt-M detailed photo-survey apparatus, has completed its work, reports NEWSru.com.
According to the space operations center of the US Strategic Command, the Cosmos-2472 spacecraft, launched on June 27 from the Plesetsk cosmodrome, descended from October 24 near-earth orbit.
Jonathan MacDowell, a well-known American expert in the field of astronautics, wrote in his microblog on Twitter that Cosmos-2472 is a spy satellite. As the main argument, he cited the fact that for the first time since 1994, the Russian satellite was put into orbit with the inclination of 81-82 degrees. "All previous launches of photo prospectors were on the inclinations of 64-67 degrees," said McDowell.
Russian military expert Stanislav Belovsky responded to his statements on his blog in LiveJournal: "The absurdity of the American assumptions from scratch is obvious. But they fear us all the same, they are afraid ... And rightly so, our army is worth it. In fact, from the cosmodrome in Plesetsk on Monday, 27 of June, the launch vehicle was launched from a Soyuz-U rocket with a spacecraft of the Cosmos series. Alexey Zoloto ukhin, is the buildup of the Russian orbital grouping of military spacecraft, "said Belovsky.
As indicated on the website of the St. Petersburg Machine-Building Plant Arsenal, a Cobalt-type spacecraft is engaged in observing and photographing the earth's surface in detail.
The Cobalt-M satellite, with a mass of 6,6 tons and a day-long active life in 120 orbit, drops the captured films to Earth in small containers that land in the Orenburg region. Search groups on the ground are engaged in special groups. Then the footage is sent to the center of space intelligence. At the same time, the interval between photographing and landing a capsule with photographic film reaches a month, which reduces the value of images for operational intelligence.
Ctrl Enter
Noticed a mistake Highlight text and press. Ctrl + Enter