Pentagon deputy head resigned for embezzling 400 thousand dollars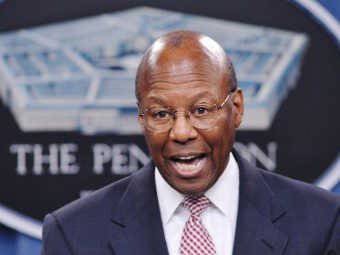 US Deputy Secretary of Defense Clifford Stanley resigns in connection with allegations of embezzling 400 thousand dollars and finding a job in the Pentagon of his friend, RIA reports
News
.
According to Pentagon's deputy head of public relations, Doug Wilson, Stanley, who held the post of deputy minister for personnel and combat readiness, submitted his resignation to the defense minister on Thursday.
- Stanley explained his decision by the fact that the highest standards are applied to the military service ..., and he has reached a stage when his successor can fulfill his duties better. Stanley's decision was voluntary, Wilson said.
At present, the office of the Pentagon's chief inspector is conducting an investigation into a case involving Stanley's excessive spending and misconduct charges. According to the investigation, the deputy minister spent about 400 thousands of dollars on the equipment of the meeting room in his office, about which the witnesses speak as "excessively expensive". Inspectors also claim that Stanley appointed his long-time friend to a high post in the ministry and forced the military department to dismiss about 20. The investigation is also studying the accusations against the deputy minister in organizing telephone tapping and interception of electronic messages of subordinates.
- Stanley created an ineffective management system based on fear and distrust. He was a capricious and despotic leader, creating arbitrariness. He allowed cost overruns, scams and abuse of power. Even assuming that he was competent in business matters, his destructive behavior could lead to the failure of all the work of the personnel management and the readiness of the Pentagon, the accompanying note to the case file regarding the deputy minister reads.
Stanley took the current post in February 2010 of the year. More than 33 years he served in the marines and retired as major general. According to Wilson, Stanley will serve as deputy minister for about two weeks, after which his deputy Joanne Rooney will be appointed acting head of the personnel and combat readiness department of the Pentagon.
Ctrl Enter
Noticed a mistake Highlight text and press. Ctrl + Enter