Syrian opposition calls on NATO to introduce a no-fly zone over the country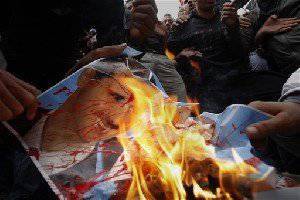 Syrian rebels on Friday, October 28, asked NATO to introduce a no-fly zone over the country.
Thus, as the BBC reports, protesters demanded that the military alliance intervene in the internal affairs of Syria, and ensure their security, as happened in Libya.
Anti-government demonstrations in Syria last about seven months. The demonstrators are demanding that current President Bashar Assad reform the law and resign.
The government, in turn, suppresses all protests with the help of the army. Over the past day, according to Syrian human rights activists, at least 35 civilians have died at the hands of the military, reports Agence France-Presse.
About the losses from the government forces, according to Syrian news agency SANA. However, the number of dead is not specified.
According to the UN, during the whole period of unrest, the number of victims of clashes in the country exceeded three thousand people. The Syrian authorities say more than 1,5 thousands of dead on both sides, including more than 1,1 thousands of law enforcement officers.
Ctrl Enter
Noticed a mistake Highlight text and press. Ctrl + Enter