Hoping for an immense freebie ... This is exactly the motto of the Ukrainian government, which is not looking for real ways to bring the country out of the crisis, but to seek out new loopholes for receiving some dubious "bonuses." On the next initiative of this kind, said Prime Minister of Ukraine Arseniy Yatsenyuk. According to him, all temporarily displaced citizens of Ukraine must submit to the international courts in Russia "for its aggression, which led to the need to relocate."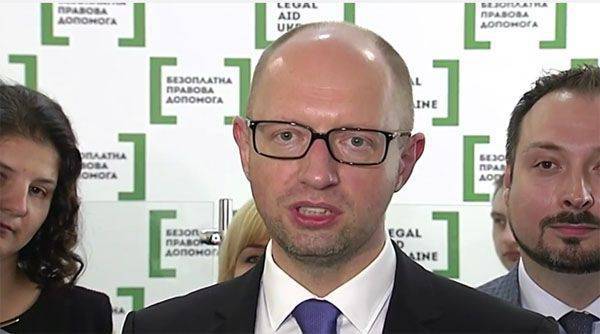 On your page in
Facebook
ukropremier writes:
The government is launching a new initiative - temporarily displaced persons who, due to Russian aggression, lost their homes, jobs, property, will be able to sue the Russian Federation in the European Court of Human Rights or in the national court and demand compensation for all damages caused by Russia.
More than ten percent of 1,4 million temporarily displaced persons in Ukraine are registered in Kharkiv. Today I visited the city center for the provision of free legal assistance, one of the largest in the country, where all of them can turn with their problems.
That is, the situation is this: Ukrainian security forces, with the filing of the same Yatsenyuk, turn entire cities into ruins, and citizens who have lost their homes, many of whom have found refuge for themselves in Russia, must sue Russia. And does Yatsenyuk not allow the fact that Ukrainians will sue not against the Russian Federation, but against him, Avakov, Turchinov, who started the ATO, and Poroshenko, continuing the bloody massacre to this day? ..