Mogherini in joy! Their regiment arrived! Seven more embarked on the path of hard struggle with the Crimea. And six are also against Russia. Foreign media are full of headlines on this topic. Like, together we - the power!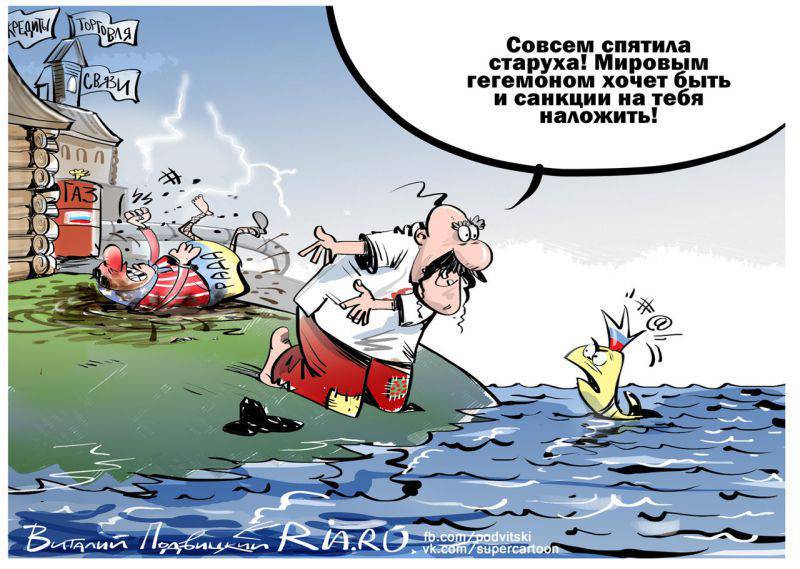 It is clear that, as in the old song, "a crowd of hares flatten a lion." But here it's not that hares, mosquitoes. Against the bear. And not just mosquitoes, but weird mosquitoes.
So, Montenegro, Albania, Iceland, Norway, Liechtenstein, Ukraine and Georgia joined the list of sanction adventurers. They confirmed to the EU Council their decisions to extend the accession regime to the EU sanctions against the Crimea and Sevastopol until 23 June 2016.
And six also joined the EU decision of July 22 to extend the EU economic sanctions against the Russian Federation to January 31 2016.
The smartest mosquito is Georgia. Ah, Georgians, that's great! Flies from cutlets learned to separate. Apparently, the 2008 year just did not pass for them. Crimea - separately, and wine and peaches - separately. Europeans ... See there, dear, do not play. There are no queues behind your wine anyway, but for some reason they are sweeping away the Crimean one. Whether the price is twice as good, or the bouquet is not worse.
Ukraine. This is another masterpiece! We look legally: for Ukraine, Crimea is a temporarily occupied territory. So? So. That is, Ukraine imposes sanctions against itself.
Of course, after Poroshenko's kinks, on instructions to withdraw the troops to himself, this is so, a trifle. But internationally, if you think ... some sadomasochism. But we are no stranger to it. We got used to it.
The candidate countries for EU membership are Montenegro and Albania. Well, everything is clear. To take a volunteer, you definitely need to loudly poyavkat. And scratch the ground with claws. Denote that we, they say, are always ready for a mortal battle with Russia in the name of the Euro-ideals.
I want to go tsiferkam. For the last year.
Russian exports to Albania amounted to $ 80,7 million dollars. The volume of Albanian imports to Russia amounted to $ 21,3 million dollars.
Twenty. One. And three tenths. A million dollars. What is it like? Albanians, are you aware that we bought these damn sprats from the Balts on 100 millions per year?
Russian exports to Montenegro amounted to $ 29,6 million dollars. Montenegrin imports to Russia amounted to $ 6,1 million dollars.
So what? Everybody tremble-afraid? By the way, we will not live without Montenegrin melts (70% of imports is). But I don't know how they are, if anything, without our aluminum. This is greater than 80%. About trade relations with Albania just keep silent, for laughter. See for yourself who is interested in what we export from them (http://www.rusexporter.ru/research/country/detail/2415/).
Liechtenstein ... What is it like? Where - I do not ask, I know. But how - this is a question. It is clear that this state is one of the shelters of those who need low taxes and financial secrets. Like Belgium and Switzerland. And, accordingly, live on interest and taxes. Hypothetically - they can hurt someone.
However, as it was said in the immortal film "The Diamond Hand", "Our people don't go to the bakery by taxi." And the money is stored in Russia, respectively. Well, and if anyone presses - except for the "pressed", no one especially burst into tears. Shared, as they say, a thief and flour.
With Iceland and Norway, everything is clear and so, even to touch is not interesting. For them, first of all, it would be necessary to counter-sanction the strike. More trout in the seas will be. Another question is that in this case it is urgent to raise our fishing fleet. For they themselves must be able to catch fish. And not these ... feed.
Dmitry Anatolyevich, this is a question for you!
It all looks funny, to be honest. It is clear that if the master orders, the servant performs. Nowhere he can not get away from this. But when such mosquitoes try to sting a bear, it even becomes somehow offensive. What else to expect from "partners"? What, we will declare sanctions Papua New Guinea or Andorra? Then for sure, "drain the water, come."
In general, I would like to quote another film. "Aladdin" Disney. There, the parrot very so militantly yelled from a safe distance: "Soul it, Jafar!"
Come on, strangle ...