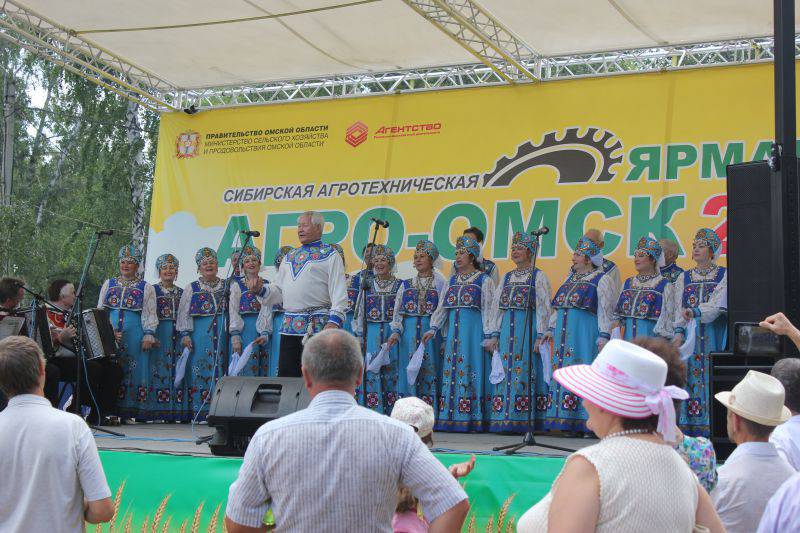 How much we wrote about sanctions that should somehow make our lives worse! According to Western commentaries on these restrictions, it turns out that we already really should eat a moss. Who happens on Ukrainian sites, understands where this information comes from. In short, everything should be bad.
Only to whom it should, it is not clear. Today I will present material that will surprise some. Some will cause a skeptical smile. But everything you read and see happened literally last week.
26 July 2015, the exhibition-fair "Agro Omsk 2015" finished its work.
"The exposition combined more than 150 units of agricultural machinery and equipment for the whole range of agricultural work, including milking equipment, tractors, soil tillage and sowing equipment, grain-flow machines and equipment. This year 370 enterprises from 18 regions of Russia, the Republic of Kazakhstan and Belarus took part in the exhibition. More than 45 exhibits are on display at the exhibition for the first time, 23 of them are assemblies of enterprises in the Omsk Region. "
This is an extract from the press release distributed for journalists and exhibitors.
"More than 20 Omsk manufacturers of agricultural machinery present their products at the exhibition. Enterprises of the Omsk food and processing industry also demonstrate import-substituting products."
In general, the Omsk region is an outstanding place. In winter, 40-degree frost "tan" the skin of Siberians. In the summer, the 40-degree heat "tempts". And the earth lives in the same extreme mode. However, it is really interesting, the Omsk region is included in the 10 of the best agrarian territories of Russia. The area provides not only itself and the nearest neighbors. More than 60 regions of Russia and the Republic of Kazakhstan receive Omsk agricultural products.
The exhibition worked for five days. And all these days from visitors was not overflowed. More than 300 000 people. Numeral! More 3 000 managers of agricultural enterprises, scientists, specialists.
It was the grandeur of the exhibition that pushed me to the idea that the readers of "VO" would be interested. Our response is not our sanctions. And let them envy!