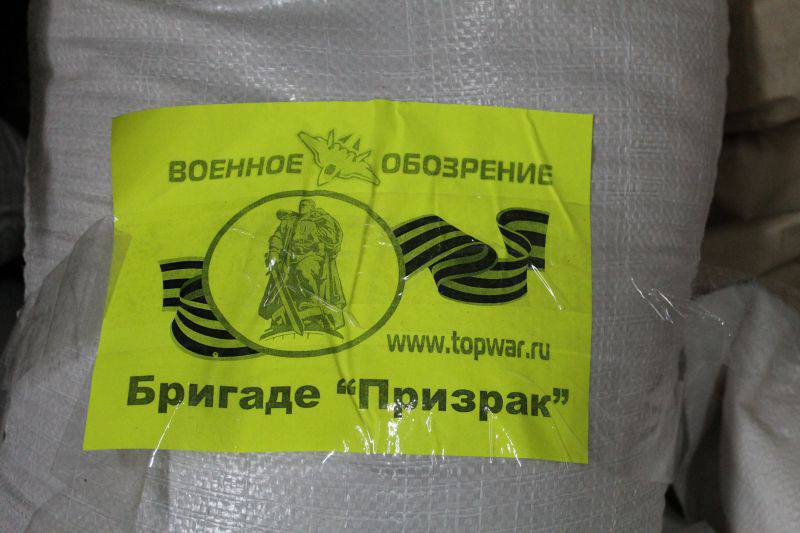 Operation "Donbas Assistance" is over. It is clear for what reasons. Naturally, this could not continue indefinitely, and now we officially announce the termination of our activities. And sum up.
We all did everything we could. And our whole community has been able to a lot. And from May 2014 to the current July, we helped those on the other side. We were with them in the same trench.
During this period, exactly 20 flights with cargoes were made.
The battalion "8 company" (Donetsk, DNR) - 2.
The battalion "Union of Veterans of Donbass" Berkut "(Donetsk, DNR) - 1.
The battalion "Bryanka - USSR" (Bryanka, LC) - 1.
Brigade "Ghost" them. A. Brain (Alchevsk, LC) - 16.
Last ride was 16.07.2015. There was no special report, because, firstly, there wasn't much of a load, and secondly, there were huge problems with the transfer of cargo to that side.
It turned out that everything that I had brought was, as it were, not allowed to be exported (without special permission). Camouflage, berets, suhpayki, medicine. But the Mechanic did it, and after 4 of the day everything was in the warehouse.
Particularly pleased with the IRP, since it was on that day that the drivers were leaving for the removal of equipment. From positions to new home areas. So the egg has ripened for Christ's day. As well as the rest of the goods. Especially chevrons pleased. In general, everything is as usual - he arrived, he gave away. Sasha said a few more words.
At the border is peculiar. July 2014 and July 2015 are, as they say in Odessa, two big differences. And comparisons are not in our favor. Last year, the cargo could be thrown without straining. This year ... this year is almost impossible. No, there are options, of course, otherwise it would have remained so, if you don't understand where, I don't really like these options. I will not voice, just so as not to harm those who are forced to use them.
I was leaving from the North with a strange feeling. On the one hand, I understood that this was the last flight, on the other - well, I didn't imagine it that way. Anyway.
Now about the results.
Over the period from 28.06.2014 to 16.07.2015, Readers of the Military Survey collected
5 242 480 rubles
. With this money was purchased and transferred to the militia of Donbass:
Communication:
"Kenwood" radio sets TK-8UFV Dual and their analogues - 187 pcs.
Car radio "Communication" M84 - 16 pcs.
Batteries for radios - 108 pcs.
Headsets for radios - 220 pcs.
Products:
Beef stew - 5686 cans.
Canned food (fish, condensed milk, porridge) - 1968 cans.
Coffee and tea - 31 kg.
Groats (buckwheat, rice, millet) - 1360 kg.
Flour / s - 6400 kg.
Pasta - 1245 kg.
Sugar - 525 kg.
Sunflower oil - 200 l.
Canned vegetables - 1485 cans.
IRP (suhpaek) - 2120 pcs.
Medicine:
Anti-shock drug - 1800 doses.
Assorted medicines - 31 box.
Field first-aid kits - 8 pcs.
Household goods and personal care products - 14 boxes.
Clothes and shoes:
Bertsy - 412 pairs.
Form - 479 Compl.
Costumes "Kikimora" - 8 comp.
Winter suits - 11 pcs.
Autumn jackets - 65 pcs.
Briefs and T-shirts MO - 130 set
Socks - 1800 par.
Towels - 200 pcs.
Chevrons of the Brigade "Ghost" - 1 300 pcs.
Equipment:
Body armor - 68 pcs.
Unloading vests and RPS - 180 pcs.
Pouches for AK under RPS - 259 pcs.
Helmets - 30 pcs.
Flask with a cover of the USSR - 110 pcs.
Field pot - 110 pcs.
Cloak Tent - 40 pcs.
Belt for SKS - 30 pcs.
Rechargeable flashlights - 90 pcs.
Battery-powered lights - 30 pcs.
Batteries - 400 pcs.
Binoculars - 30 pcs.
Sight POSM - 1 pcs.
Thermal imager - 2 pcs.
Periscopes - 2 pcs.
Artillery busol - 4 pcs.
Foams - 50 pcs.
Tents - 20 pcs.
Sleeping bags - 63 pcs.
Knives - 26 pcs.
Special cargo - 8 seats.
For car fleet:
Winter tires - 40 pcs.
Chargers for vehicles - 2 pcs.
Batteries - 16 pcs.
Gasoline A-92 - 1400 l.
Diesel - 177 l.
Air filters, candles, belts - 4 box.
Oil filter - 5 boxes.
Motor oil - 18 canisters.
Antifreeze - 20 canisters.
Office equipment
Computers - 2 Compl.
Video camera - 1 pcs.
Camera - 1 pcs.
Action cameras - 2 pcs.
As part of the operation "New Year"
Sweet gifts for children - 400 pcs.
Personalized gifts (toys) to a school for disabled children - 30 pcs.
Gifts (toys) for children of the Ghost Brigade - 42 pcs.
Gingerbread - 15 boxes.
Transmitted from Readers "VO"
Parcels - 42 pcs.
Camping gas stove - 3 pcs.
Gas in cylinders - 120 pcs.
Field plate - 2 pcs.
Manual fuel pump - 1.
Camouflage net 3х6 m - 1 pcs.
Honey - 180 kg.
Laptop - 2 pcs.
System unit - 1 pcs.
Marshmallow - 15 boxes (NG).
Cookies, marmalade - 16 boxes (NG).
Candy Caramel - 2 bag (NG).
In addition, we still brought to Voronezh one fighter from the August battalion for an operation after being wounded, and then we took another to the rehabilitation center in the Moscow region after the operation.
And there was one operation, which at that time decided not to write. We exported from Ukraine two citizens of this country (4 and 6 years), whose father, ukrovoin, did not want girls to grow up in a normal country. And their mother, his former wife, a citizen of Russia, did not want them to live there. Among his likes. In short, it seems, we have slightly violated something under Ukrainian law, but as a result the girls will become Russian women.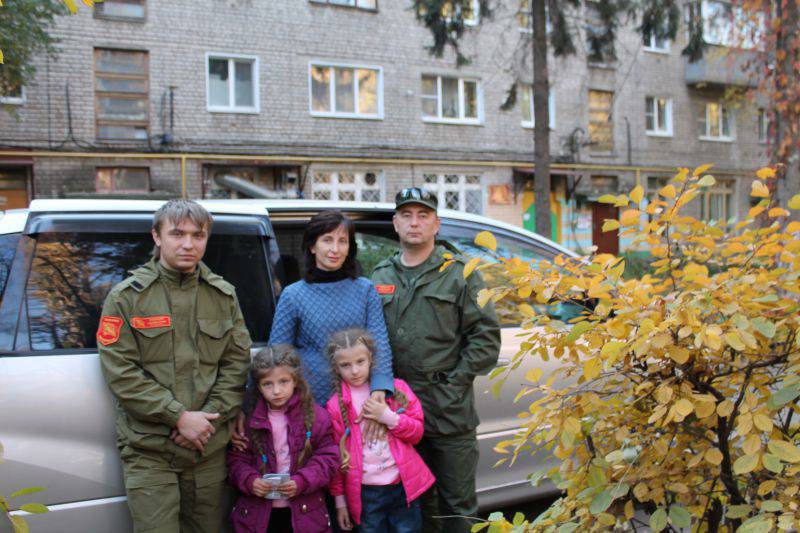 These are the results.
On behalf of all the fighters who saw our support, on behalf of our small team that represented you in Novorossia, I say to everyone who participated in this annual marathon, thank you so much. We have shown with our deeds that we do not care how it ends in the Donbas.