Russia delivered 25 armored vehicles to China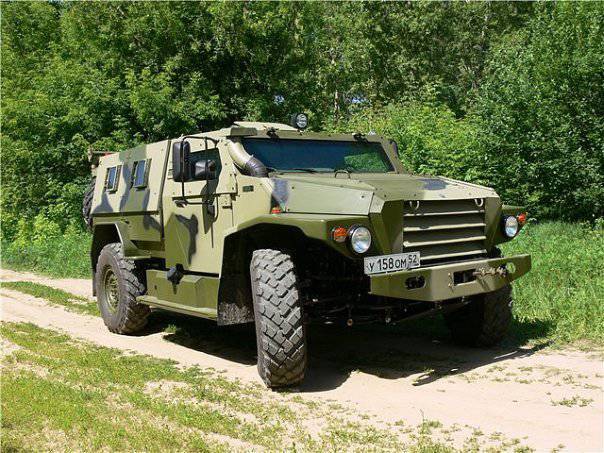 The Russian "Military Industrial Company" supplied 25 vehicle sets of Tiger Tank armored car to China for assembly on the territory of this country, said the general director of the military-industrial complex Dmitry Galkin at the Interpolitex-2011 exhibition.
"We were surprised that from the Chinese side there is no attempt to copy this car. We realized that it's more profitable for them to buy machine sets from us, assemble them and sell them to the police," noted the general director of the military industrial complex. "It's also beneficial for us - the difference between the finished machine and the car kit is only five percent. " The military industrial complex also has an order from the People's Republic of China for the Tigers before the end of the current year and for the 2012 year, he added, without specifying the volume of the transaction.
The military-industrial complex in the 2012 year will increase the production of armored vehicles "Tiger" to 300 units, 200 of them will be exported, Galkin informed.
According to him, this armored vehicle is constantly being upgraded. The Tigr-M version is already being supplied to the Russian army. The exhibition "Interpolitech-2011" presented "Tiger-6A", which is made in the body of "pickup", has an increased class of protection - the car is equipped with additional armor doors and viewing parts (around the windshield and the entire bottom), which provides higher protection crew from small
weapons
and min.
Also equipped with additional protection and engine of the car, and the class of armor of all glasses changed from "5" to "6". Currently, "Tiger-6A" is preparing for testing, after which the armored vehicle will be put into mass production.
Currently, tests are conducted armored car "Wolf" - the most modern version, created on the basis of the "Tiger", ITAR-TASS. "We call it the" Tiger killer "because it has the same dimension and load capacity, but is more modern. We assume that this machine will replace the "Tigers" - said Galkin.
Ctrl Enter
Noticed a mistake Highlight text and press. Ctrl + Enter