Ankara denies invasion of Iraq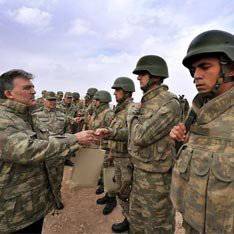 The Turkish Ministry of Defense has denied information about a large-scale armored operation against Kurdish militants in northern Iraq that appeared a day earlier. Tanks, according to the military, are present only on the Turkish side of the border, where exercises are taking place in recent days, reports Al Arabiya.
The Iraqi military also denied the invasion. Colonel Hussein Tamer, the commander of the border guards in the north of the country, said that there were no Turkish soldiers in Iraq. The representative of the Kurdish Workers Party (PKK), Ahmed Denis, also said that he had not seen any Turkish tanks or other troops.
Meanwhile, Fawzi Mohammed Ibrahim, a resident of the Iraqi province of Dohuk, told the Arab news channel that on Tuesday "around 11: 30 a large number of Turkish soldiers invaded our village and continue to attack."
On Monday, the media reported that about 20 Turkish tanks and 30 military trucks crossed the border with northern Iraq and are moving in the direction of one of the PKK camps in the town of Haftanin. In addition, it was reported that Turkish aviation was conducting an intensive bombardment of the area between the border Turkish city of Cukurdja and the northern Iraqi region of Zap. The General Staff of Turkey has not made any statements regarding the actions of its air force.
This operation was preceded by a series of combat raids on the border between the two countries, organized after the attack of militants of the Kurdish Workers Party on the Turkish military on the night of October 19, when 24 soldiers died and 18 were injured.
The last large-scale operation Turkey against the PKK held in August of this year. Air strikes destroyed about 300 people.
Ctrl Enter
Noticed a mistake Highlight text and press. Ctrl + Enter