LifeNews offers material that presents the next (very unexpected) version of the Boeing-777 crash in Donbas in July, 2014. The article refers to the expert of the Federal Information Center "Analytics and Security" Sergey Sokolov. Sokolov declares his confidence that the plane flying from Amsterdam to Kuala Lumpur was destroyed from the inside as part of a certain special operation. At the same time, Sokolov declares that he has at his disposal a record of the negotiations of the pilot of the Su-27 aircraft of the Ukrainian Air Force with an officer of the Ukrainian flight control center.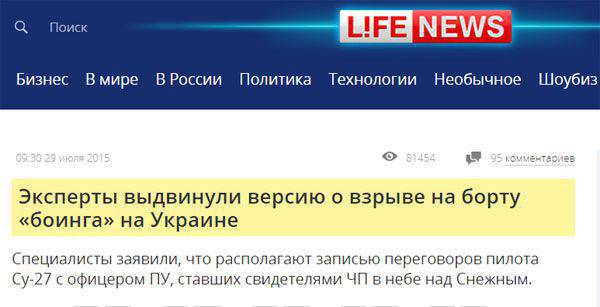 LifeNews
It represents a fragment of the record decryption that Sokolov supposedly has at his disposal:
The officer:
730, you observe the purpose?
Pilot:
I observe, on the left abeat, above.
Pilot:
Big, right?
The officer:
Yes!
Pilot:
730! I do not understand, repeat!
The officer:
The goal is big, right.
The officer:
730, don't get close!
Pilot:
Yes, I see, I understand, leave. 730! Accompanying ...
Officer
: 730, understand you, before the command.
(After two more minutes, the pilot himself comes in contact, he is very excited. - Approx. LifeNews)
Pilot:
On a big flash! 730, watching the flash!
The officer:
730, did not understand, repeat.
Pilot:
On a big flash ... a blast!
The officer:
Rocket?
Pilot:
No, I have not seen outsiders. Perhaps an explosion on board.
The officer:
730, explosion on board? From the ground? Confirm!
Pilot:
No, I did not see the hits. He himself exploded!
At the same time journalists
LifeNews
declares that with decoding the record they were helped by some "expert
Ivan Ivanov
, which has hundreds of combat and training missions. "
It is strange that in the publication, pointing to the alleged internal explosion on board the Boeing, the opinions of "experts Peter Petrov and Sidor Sidorov" are not presented ...
The fact remains: the more time passes from the moment of the tragedy, the more strange versions will be multiplied both in social networks and in the media.