In the Ukrainian "regiment arrived." When the Nazi battalion with the loud name "Holy Mary" is also formed a cavalry unit. Information about this is published on the battalion page on Facebook. It is noted that the cavalry "St. Mary" will be engaged in patrolling roads and maintaining order in the area of ​​the so-called "ATO".
From post to
Facebook
:
In August, the 2015 at the battalion "Holy Mary" begins to form a voluntary equestrian unit. The cavalry has already proved its effectiveness while patrolling roads and maintaining public order in the ATO area. To participate in the formation of volunteers need riding skills and care for horses, as well as volunteers and all those who are not indifferent, ready to join our initiative. (Hans)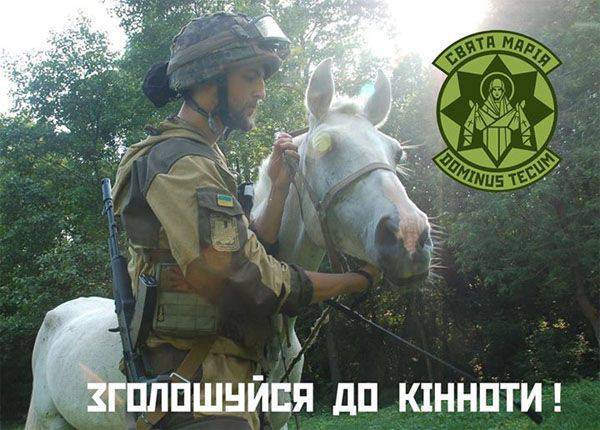 Facebook users have already ridiculed the initiative of the Nazi battalion, published the question:
And the cart will be?
Meanwhile, the Ukrainian military enlistment offices continue to make efforts to implement the mobilization plan. So, in Lviv began to appear posters (including in public transport) with the popularization of service in the Ukrainian army. In this case, the motivation on some posters sometimes look "enchanting." On one of the posters, it is proposed "to replace the soldier at the checkpoint, as he is expected at home".
Poster publishes
broker
MO of Ukraine: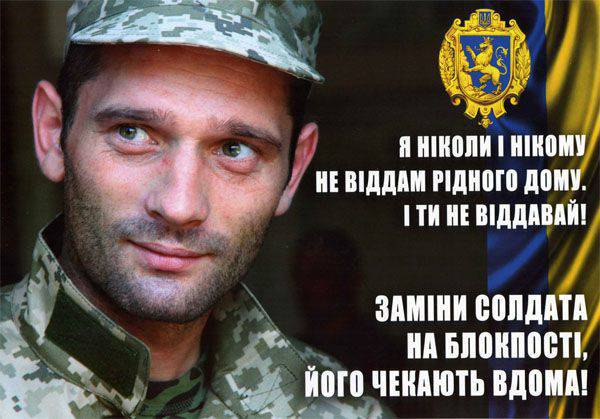 Representatives of the Lvov draft board placed the same poster in the form of a sticker on the bus window where the places are located
for invalids
...