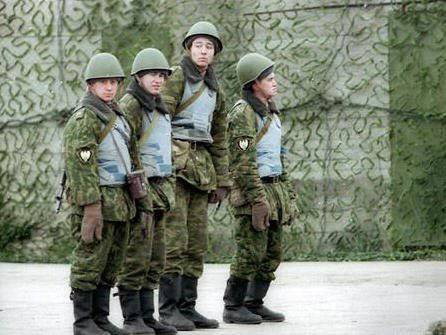 The situation with non-statutory relations in the Russian army is getting worse, thinks Valentina Babynina, head of the Crimean district organization of soldier mothers "For sons". As stated by the human rights activist to the Rosbalt correspondent, this circumstance forced the soldiers' mothers in different regions of the country to write a letter of appeal to the President of the Russian Federation.
"Today there is no army in Russia that can protect the country. Previously, the army was bad, and it became even worse," said Valentina Babynina.
As a human rights activist clarified, many soldiers' mothers, until recently, hoped that the president and the government would "come to their senses" and take measures to restore order in the army structures. However, the tightening of the postponement situation, new wild cases of hazing and fraternity dispelled these hopes.
"The army must be healthy and strong. Young people - that in 18 years, that in 28 years - should be willing to go into such an army, and not under duress. If this is not, then our country does not have an army" - stressed Valentina Babynina.
It should be noted that representatives of 22 human rights organizations, mostly soldiers' mothers, from the 14 regions of the country sent an appeal to the President of the Russian Federation in connection with the death of a soldier Ruslan Aiderkhanov.
"We believe that over the years of silencing the truth, failed by sabotaging reforms and carrying out" cosmetic "transformations, there is ample evidence that it is impossible to rectify the situation in the framework of the draft system. We demand the abolition of compulsory military conscription, or at least suspension for the development of a new, relevant Constitution of the Russian Federation and international acts on the protection of human rights, legislation governing its passage and clearly stating its sole purpose: the preparation of military "We demand the abolition of military justice. We are convinced that while maintaining the draft in its Russian version, it is impossible to modernize the country," said the authors of the appeal.
Recall that a zinc coffin with the body of a soldier Ruslan Ayderkhanov came to the village of Araslanovo from the Chelyabinsk region from a military unit. According to the official version, a conscript soldier committed suicide by hanging himself on a tree. Ruslan's relatives, having opened a zinc coffin, found numerous wounds on the body of the deceased.
Photos of Ruslan's wounds were sent to the Minister of Defense Anatoly Serdyukov by the village's residents, and the President of the Russian Federation Dmitry Medvedev received a collective appeal. Residents of rural settlements refused to send their sons to serve in the army.