The press service of the Ministry of Defense of the Russian Federation said that the participants in the competitions "Suvorov Onslaught" and "
Tank
biathlon ", which is planned as part of the" Army International Games 2015 ", began preparations.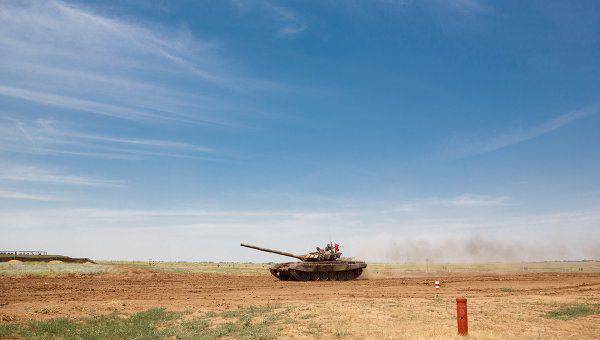 "More than 400 cumulative tank ammunition are shot by tank crews of teams from 13 states in preparation for participation in the Tank Biathlon competition, which will take place from 1 to 15 in August at the Alabino training ground near Moscow as part of the 2015 international games," message press service RIA
"News"
.
According to the Defense Ministry, the teams were given the opportunity to prepare infantry fighting vehicles and tanks for races.
"In accordance with the results of the draw, crews carry out reconciliation of sights and sighting of weapons. To do this, 8 cumulative practical shots and 50 cartridges for machine guns were allocated to each tank, "said the assistant chief referee of the competition, Major General Dmitry Zhukov.
During the draw, the color of the combat vehicles, the sequence of the races were determined, as well as the equipment among the crews. Russian tank crews will compete with teams of Mongolia and Angola.
"In the competition" Suvorovsky onslaught ", the motorized rifle of the Russian Army team had to draw lots to compete in the yellow infantry fighting vehicles of the BMP-2 infantry. Their rivals will be the servicemen of the National Liberation Army of China and Venezuela, "the press service noted.