Following the French parliamentary delegation, Italian deputies are ready to come to the Crimea. The newspaper Kommersant writes that the delegation that is going to visit the Crimean peninsula will include parliamentarians from the Five Stars movement, which Kommersant itself, because of criticism of the top leaders of the EU and the USA, from representatives of this Italian movement itself calls "Populist." And statements by other political forces of the EU and the same US that they "isolated Russia, bringing the Russian economy to ruin", that "Ukraine is Europe", and that "NATO is the stronghold of peace, and Russia is the number one threat - is it not populism? ..
Kommersant writes that one of the members of the Italian parliamentary delegation, who will visit Moscow and the Crimean peninsula, will be the deputy Manlio di Stefano, who is a member of the Italian parliamentary committee on foreign affairs. The head of the delegation of deputies of the Italian parliament is likely to be Alessandro di Battista, who previously served as vice-speaker of the Italian Chamber of Deputies.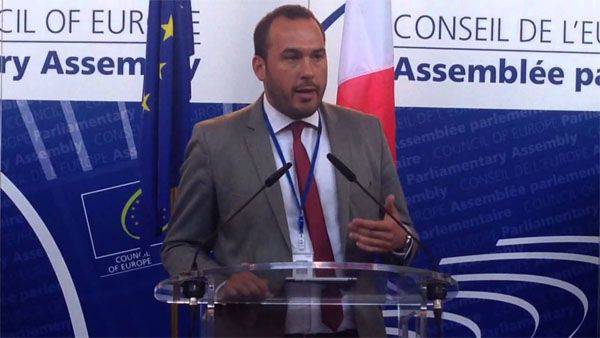 Manlio di Stefano
If we believe
"Kommersant"
then the Italian deputies "are concerned that their trip to Crimea may be the reason for the future refusal of official Kiev to issue visas for entry to Ukraine, and therefore the Italians are supposedly going to coordinate their trip with Kiev ...
Meanwhile, the Ukrainian deputy of the Verkhovna Rada of Ukraine, Logvinsky, said that French deputies who had visited Crimea without coordination with Kiev "are threatening from 5 to 8 years of" imprisonment ". From his message in
Facebook
(the author's text is completely preserved):
Dokatalis. "Woe" to French faces from 5 to 8 years. According to my appeal to the General Prosecutor's Office of Ukraine, the verification has already begun.

All those who were part of the French delegation, all those who allowed themselves cynically to spit on the Ukrainian laws and conduct "negotiations" with the occupiers, who, without a twinge of conscience and not appreciating their personal reputation, violated the borders of our country - they will all bear responsibility .
Today or tomorrow is just a matter of time.

And you should not assume that a one-time trip and declaring persona non grata in Ukraine is all the consequences of violations by the French delegation of Ukrainian laws! (...) And I personally will see that this situation ends exclusively in accordance with the "letter" of the law.
Scared ...