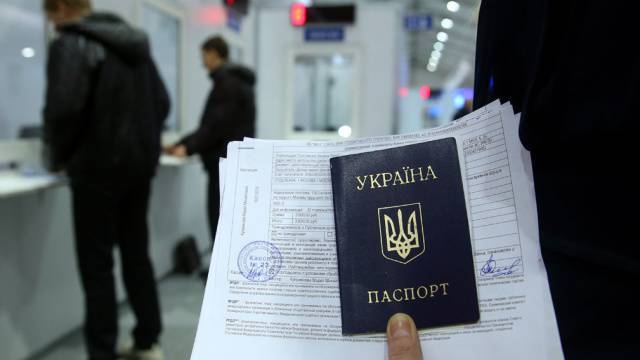 From unpatriotic. I never thought that the citizenship of Ukraine is like a disease of vitiligo. Get rid of almost impossible. Even if you accepted the citizenship of another country, for example, a European country, they will not allow you to simply get out of Ukrainian, and dual citizenship is prohibited. Moreover, if our person received the citizenship of another state, then in legal relations with his homeland, he is still recognized only as a citizen of Ukraine. This means that an American or an Australian can be forced to serve in the ATO and even imprisoned for refusing to be drafted. Do not believe? I tell in order.
I have a classmate, a talented musician who was euro-integrated long before naive compatriots began to dance on the Maidan. While still a student at the conservatory, he won a prestigious international competition. He accepted an offer to play in a symphony orchestra in Europe. First in one, then in another. He married an Austrian violinist. He became the happy father of three children. And in the end he received the citizenship of Austria.
As a law-abiding person (almost European), he went to the Ukrainian embassy and inquired how he could pass our passport. For dual citizenship by Ukrainian law is not provided.
He was asked what kind of citizenship he received. "Austria," my classmate answered modestly. "Not lucky ..." - muttered in the embassy. It turns out that the procedure for changing citizenship is simplified only if there are bilateral agreements between states providing for the automatic termination of the citizenship of one and the acquisition of citizenship of the other. But we have such agreements with ... Georgia, Kyrgyzstan and Tajikistan. Austria is not among the "lucky ones".
"How can I be," the talented musician asked the embassy staff. Those generously discovered the Law of Ukraine "On the Citizenship of Ukraine" and "The Procedure for Proceeding on Applications and Representations on the Citizenship of Ukraine and the Implementation of Decisions taken", approved by decree of the President of Ukraine No. 215 of 27.03.2001 of the year. And they said with undisguised joy in his voice that
to renounce the citizenship of Ukraine is IMPOSSIBLE.
Stop - you can. But only in the case of exit from citizenship or in connection with his loss.
Well, okay, - my friend agreed, - can I lose my citizenship or leave it?
Inexpensive ..
No, - the embassy patriots answered, - the exit is carried out by the mutual consent of the citizen and the state.
РЇ СЃРѕРіР »Р ° сен.
And the state may not.
And what should I do to make the state agree with my desire to quit citizenship? - My childhood friend began to lose patience.
Well, you need to submit a copy of the Ukrainian foreign passport with a stamp about leaving for permanent residence abroad, a document on registering with the consulate, a document confirming that you have acquired the citizenship of another state, or a document, a statement of withdrawal from the citizenship of Ukraine, a receipt for paying the consular collection in $ 210 and all this for a month.
And further, having caught a lightened sigh from the mouth of my friend, the representative of the consulate added: "And then we will prepare an opinion on the possibility of satisfying the petition or on the impossibility and send materials to the Commission under the President of Ukraine on citizenship."
What, will the president decide? - timidly asked a famous musician.
Yes, a presidential decree is issued on every occasion. You need to wait a year.
And to lose citizenship is not easier? - asked the applicant.
Well, for this you need to obtain the citizenship of another country as a result of deception, deliberately providing false information or false documents. Voluntarily enter military service abroad. And so on. By the way, in case of loss of citizenship, the initiators of the procedure are diplomatic missions, and not a citizen. Therefore, do not even hope - we will not give you citizenship.
Sadness shook my buddy. To dispel her, he decided to call home mom. But he did not even have time to say a word about his visit to the consulate. Annoyed old woman reported that she had received a summons for her son. And, if he tries to visit her at home, he will immediately go on tour to the ATO area.
My friend the musician was outraged and called, it seems, in the Foreign Ministry to report two important
news
. First of all, he is a very famous violinist. A front violinists contraindicated. And, secondly, what is the ATU demon, if he is an Austrian citizen ?!
In the foreign policy department, he was listened to and replied that, since he still had not resigned from the citizenship of his homeland, he was recognized only as a citizen of Ukraine in legal relations with her. And his Austrian passport is a personal matter.
You never know who here is a passport. We have half the government with unknown passports. Therefore, there is nothing to shirk and hide behind foreign citizenship, the country needs slaves, let it lock the violin in the chest and slap on the war. There he will be given another bow.
Do not want? Deviationists are given ... prison. And, by the way, when arresting a foreign consul you should not count. It is clearly said, for the dull: you are a citizen of Ukraine in relations with Ukraine. And if you have at least three hundred passports, they are not considered ...
After that, my friend called me and shared his emotions from what he heard. If you isolate his key idea from pronouns and not quite literary words, it outraged his attitude of the democratic and pro-European Ukrainian state to its citizens as slaves.
"When I needed a state to protect my interests," my friend boiled over, "he is never around." But when he needs me in the form of cannon fodder, he will get it out of the ground. And with taxes as well. I don't care that there is a double taxation treaty, that I pay taxes here, I keep my family, I pay loans. If I am a citizen of Ukraine, then, be kind, share with your motherland. And I like the argument: they say, how else would you receive a pension? And if I do not apply for a Ukrainian pension? If I am satisfied with the Austrian? Why do I have to pay a bribe to the state in which I was just born, finished school and left for 19 in years. Did she send me to work? Or do I owe him my becoming? And where are human rights, civil rights in general? Why can not I renounce the citizenship of Ukraine? I am not the property of Ukraine. I am a free person, born in Ukraine, but living in another country.
This is probably unpatriotic, but I agree with him. Americans, won, do not allow their citizens to work abroad and not pay taxes to the US budget. But say goodbye to an American passport? .. Yes, easy! Then piss off! Millions of people are already at the door.
As in family relations, a stranglehold clings to its citizens of the country, who are not confident in their strength and attractiveness. Ignoring the simple truth: you can not be forced by force.
But the lyrics will not help. After searching on the Internet, I found what I needed for a friend. The law firm offered services to those who wish to lose the citizenship of Ukraine. "Right now! Click here and find out how! "Was written on the site.
We clicked and found out that the experienced lawyers of the N company can significantly simplify our way to the termination of Ukrainian citizenship. They will select the most appropriate way to achieve the goal and help you choose the optimal procedure for termination of Ukrainian citizenship. Quickly and efficiently prepare the necessary package of documents. Accompanied to the competent authorities. Will assist and protect interests.
Well, if you run away from the citizenship of a country only for money, you will have to pay. As they say, the entrance is the ruble, the exit is ten. My friend willingly copied the link to the site of the company and immediately wrote them a letter ...