TV channel
LifeNews
He spread the information that in the line of the well-known American USAID fund in Ukraine, it is planned to entice the militia of the DPR and LPR to the side of Kiev. At the same time, material benefits are announced as the main stimulus. In all likelihood, USAID and its Ukrainian representatives are judged on their own, seriously considering that the majority of representatives of the Donbas militia oppose Ukrainian punishers solely for money.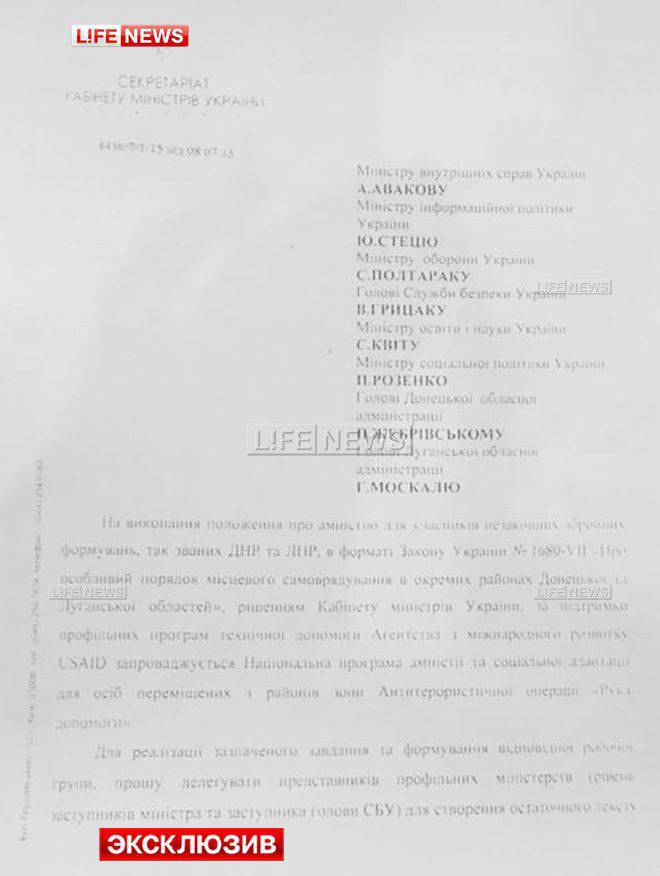 Referring to the source in the so-called Donetsk Regional State Administration,
LifeNews
publishes a letter to the Minister of Internal Affairs of Ukraine Arsen Avakov, Minister of Defense Stepan Poltorak, the head of the SBU and other officials. The letter says about the need to take part in the implementation of the "Helping Hand" program, according to which the militia who want to go to the side of Kiev after offering them material goods, must pass a certain selection.
What kind of material benefits Kiev and USAID, putting a hand to the "color" coups in different states, offer? This training in universities of Ukraine, the Czech Republic and Poland, a simplified system of doing business, the opportunity to become a member of the Armed Forces of Ukraine with the rank (if any), as well as payments (the amount is not specified).
The letter says that the heads of the Luhansk and Donetsk Regional State Administrations need to be "infiltrated" to identify those who wish to go over to the side of Kiev. On the selection procedure and guarantees for defectors are not reported.
The authenticity of the letter is a separate question. Attention is drawn to this letter, for example, the name of the Minister of Defense of Ukraine, printed with an error.