The press service of the special monitoring mission of the OSCE announced a review of activities in the Donbass, including in connection with the recent incident in the city of Happiness, where
mission officers came under fire
from the Ukrainian security officials.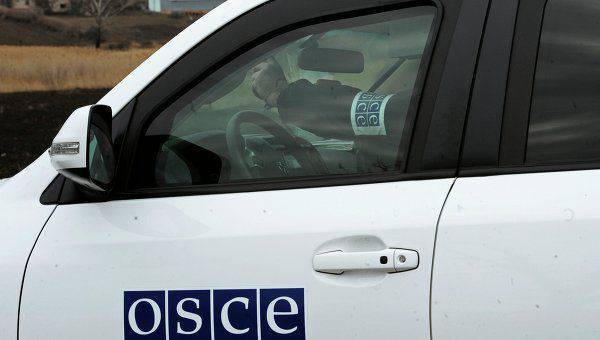 "In response to the incidents that occurred in recent days, including what happened near Happiness, the SMM reviews its monitoring operations in certain places. (...) The SMM reiterates its absolute need for secure and secure access in order to fulfill its mandate, "the press service reported.
INTERFAX-UKRAINE
.
In addition, a regular report of the OSCE monitoring mission was published today, in which it is reported that the head of the observers' patrol was slightly wounded in an explosion in the village of Shyrokyne, which occurred five meters from the group.
OSCE representatives arrived in the village at 11.15 on Monday, and at 11.25 from the north-east there were shots from a grenade launcher, as well as small-arms fire
weapons
. During the next hour, another skirmish was recorded.
"Then the SMM heard the sound of sniper shots from the south, after which the patrol commander ordered the patrol to leave the radio immediately. At the same time, the SMM saw three people behind the building at 50 meters north of the SMM position. A rifle shot was heard from that side. After a few seconds, an explosion occurred five meters north of the head of the SMM patrol, which as a result was knocked down. He was hit by a fragment of concrete that had rebounded as a result of the explosion, and his helmet was pierced, "quotes an excerpt from the RIA report
"News"
.
Observers immediately left the town and drove towards Mariupol. On the way, the victim was given first aid. Later he was diagnosed with mild concussion and a hematoma on his leg.