If a person goes into battle unprepared, it will be dishonorable in relation to the federation, in relation to the brothers by arms, but worst of all - in relation to him.
Robert Heinlein. Star infantry


A samurai without a sword is like a samurai with a sword, only without a sword.
Bushido
I want to express my opinion on the army hand-to-hand combat. Yes, yes, the very one who is an army and little different from him Dynamo. Immediately I warn you that this is not about wonderful techniques and unique techniques. No one denies the obligation of this discipline in power structures. And no one doubts the fighting qualities of individual prominent Companions.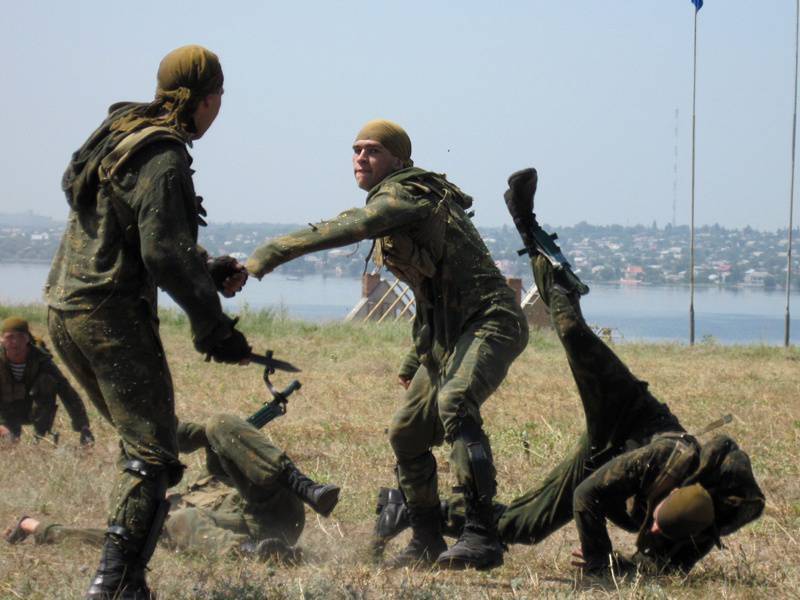 So, it is no secret to anyone that modern hand-to-hand combat was developed in the 70 of the last century by a group of enthusiasts based on sports sambo, boxing, as well as karate and a small admixture of combat sports. These creators took the most effective (in their opinion) techniques and, based on their ideas about "real" combat, created a system for training security forces fighters from scratch from scratch. While ignoring the rich domestic (and foreign too) experience. And they got some kind of semi-discipline discipline with certain utility claims.
What's the catch? And here is what: in
stories
The development of martial arts hand-to-hand combat (combat without weapons) is closely linked, and to be perfectly accurate, is a special case of the usual battle with weapons. Complexes of formal exercises (kata) of oriental martial arts (namely, martial arts, and not martial arts) are performed with or without weapons. Movement and technology are performed almost the same with or without weapons. You also need to add that it is implied that you are one and you have several opponents, and they are armed.
What do we see in the martial arts of the East? Permanent movements that impede opponents attack and joint actions. The absence of a long series of strikes against one opponent. Instead, the principle of "one action - one enemy." If the master spends on the opponent more than one movement, he fusses. Accordingly, if in the formal complex we see a series, then, as a rule, this is a series against several opponents. And even more so there are no clinches and a long struggle in the girth (or even on the ground) - this threatens to lose control over other opponents. Who are completely out of place may be a weapon. Getting a knife in the back with a knife (or a manhole cover on the head) while embracing one of the interlocutors is not the best end to a fighter's career. Lying on the ground, when several opponents attack you, is generally like death.
As for the actual training, in the current situation we have several systems of combat skills - proper hand-to-hand combat, work with melee weapons, actions with firearms. As a result, there is an accumulation of skills that very often contradict each other.
Suppose there is a fighter who has a training in hand-to-hand combat, which is common in our time, with one opponent, with clinches and even wrestling. In practice, this translates into concentration on one opponent and a long "shuttle" trampling in one place in order to properly abuse the adversary. And this same fighter has a rifle training, where you have to control a lot of opponents, constantly move and not sit (stand) in one place. Accordingly, some skills will contradict others. For example, if during a sudden collision you have to first use hand-to-hand combat skills, then take part in a shootout, and after the shooting ends, end the fight again with your hands - most likely, our fighter will have problems.
There are still no less interesting moments. Modern army means that the fighter will be dressed in some special equipment. I have little idea of ​​two soldiers in helmets, body armor and full "unloading", boxing, moving with a shuttle and putting on tobi ara mawashi geri (who is interested, he will find a translation) or trying, "gently" embracing, to throw over his shoulder. No matter how strange it may sound, but modern equipment returns us to the times of medieval armor. Technology has changed, but the essence remains. A blow with a bare fist on the jaw and a punch in a kevlar glove on an armored sphere on an opponent's head are not exactly the same thing. Yes, and poke a knife in a bulletproof vest is not always advisable.
But at the same time, hand-to-hand combat is still designed for airborne demobilization at a school disco or in a bar. And somehow it is forgotten that hand-to-hand combat is still one of the means that allows the fighter to survive on the battlefield. And this tool should also be developed and modernized, like everyone else. That is, instead of the natural and necessary part of combat training, we have a certain alien element, which is useless in its current form in combat.
It is clear that the infantry is not likely to get into a situation where you can apply hand-to-hand combat skills. But anything happens in a war, and if suddenly a fighter encounters an opponent face-to-face during a battle in a city tomorrow, and he will not have the opportunity to shoot - for example, he did not have time to recharge, or sticking, or ... It would be better for a fighter, and for his comrades, if he will be able to grieve the enemy even in such conditions.
In the meantime, I see attempts to train combatants in combat skills, dressing them in boxing gloves on soft mats and in sweatpants. And it would be funny if it were not sad. In the end, it is dishonorable with respect to the fighter himself.
I repeat. We are not talking about the fact that martial arts are good, and hand-to-hand combat is bad. Not at all. The idea is that hand-to-hand combat in the army has become a highly specialized semi-sports system, not related to the main activity. As a drill. In the East, martial arts taught primarily tactics and strategies of combat, discipline and the ability to think in different situations. Therefore, as a rule, they developed among the military elite. It is like chess, only with the help of arms and legs. We have these chess for some reason used in boxing gloves for beating on the head. Although this is only a part of their functions, and not the most important one.