The deputy head of the mobilization department of the General Staff of the Armed Forces of Ukraine, Alexander Pravdivets, expressed bewilderment about the reluctance of citizens to serve in the army and the constant complaints of soldiers about poor nutrition. Reports about it
PolitNavigator
with reference to the Kiev magazine "Focus".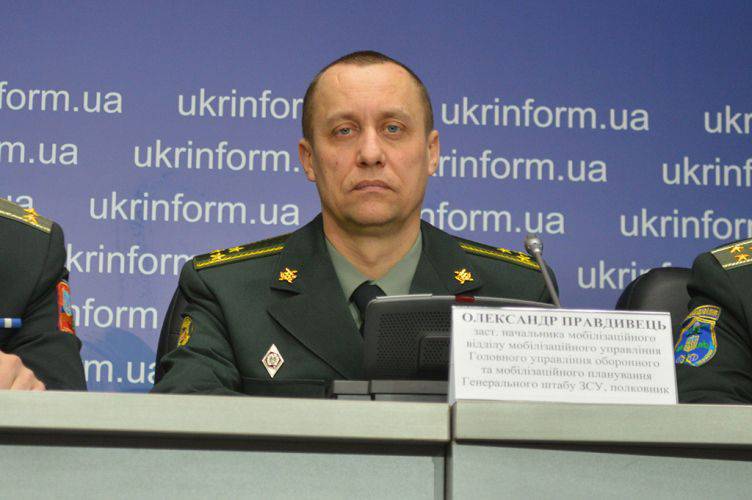 "I don't have an answer as to why citizens are now evading
, - Pravdivets told the journal. -
I think the whole thing in education. There is always a personal factor, and you need to start with yourself, with your relatives. "
He also resented the constant complaints of poor nutrition and urged the military to more bravely endure for the sake of their homeland.
"Let people look at their passport
- Pravdivets suggested. - G
citizens are obliged to defend their country, here "I want - I do not want" does not work. And in fact what happens: I'm afraid, uninteresting, something else. Our military is called to the ATO zone, and they start complaining to their wives, mothers, and relatives that they haven't drunk water somewhere, have not had enough sleep, or haven't eaten somewhere. And who said that the army is easy? Military service has always been, is and will be hard and dangerous male work, accompanied by constant physical and moral-psychological stress. "
Earlier, the officer said that even recidivists would be called upon if the crimes they committed were not serious.
"Only those who have committed grave and especially grave crimes are removed from the register, the articles on which envisage from five years of imprisonment to life imprisonment. At the same time, if a person has served 5 for years, for example, for theft, he must be mobilized, "
- said the representative of the General Staff.