During the first international military-technical forum "Army-2015", which was held in Kubinka in June, the Minsk Wheel Tractor Plant presented the latest army trucks: the four-axle MZKT - 6002 and the three-axle all-wheel drive MZKT - 6001, reports
"Messenger of Mordovia"
.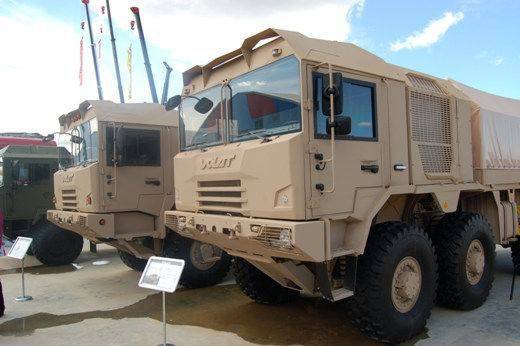 "The features of these cars are frame-panel cabins, which, depending on the modifications of the trucks can be armored. The weight of the fully equipped machine with the wheel formula 6х6 reaches 12 800 kg, the weight of the transported load is 11 000 kg. Full curb weight - 24 000 kg. On a machine with the formula 8х8, the chassis weight can reach 34 000 kg with its own weight in 17 300 kg, "the publication notes.
MZKT - 6001 is equipped with an 240 horsepower engine, and MZKT - 6002 is equipped with a HP 540 engine. They allow you to reach a maximum speed of 90 and 110 km / h, respectively. The power reserve of both trucks reaches 1000 kilometers.
An automatic transmission of Belarusian production is installed on this family of special chassis, both cars have independent suspension.
On the new trucks, you can mount various equipment, Pantsir anti-aircraft missile and gun systems, radar stations, Bastion missile systems and upgraded Smerch rocket launchers.