On Sunday, Russian President Vladimir Putin approved changes to the Russian Maritime Doctrine that affect relations with NATO.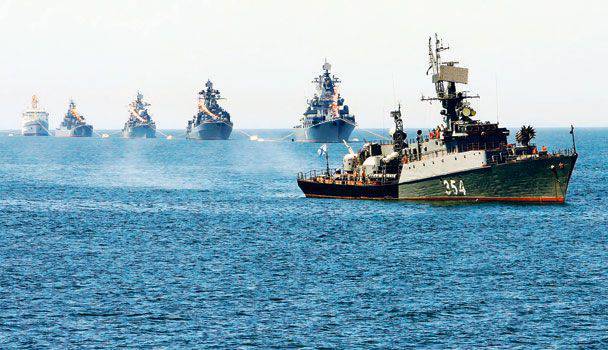 In particular, defining the maritime policy in the Atlantic region, the document points to "the conditions existing in this region, focused only on the organization of the North Atlantic Treaty (NATO), as well as the imperfection of the legal mechanisms for ensuring international security."
"The decisive factor in relations with NATO remains the unacceptability for Russia of plans to advance the military infrastructure of the alliance to its borders and attempts to impart global functions to it," he quotes from the doctrine
Interfax
.
It is also noted that the basis of the maritime policy of the Russian Federation in this direction is the solution of long-term tasks in the Atlantic Ocean, on the Black, Baltic and Azov seas, as well as in the Mediterranean Sea. In particular, much attention is paid to "ensuring a sufficient naval presence of the Russian Federation in the region."
In the Azov and Black Seas, "the foundation of the national maritime policy is the accelerated restoration and comprehensive strengthening of the strategic positions of the Russian Federation, and the maintenance of peace and stability in the region."
The document notes that under these conditions, "improving the composition and structure of the forces of the Black Sea
fleet
, the development of their infrastructure in the Crimea and on the coast of the Krasnodar Territory ", as well as" ensuring the transport accessibility of Crimea, the development of ferry lines in the direction of Krasnodar Territory - Crimea ".
In the Mediterranean, the basis of the Russian maritime policy is "to pursue a focused course towards becoming a zone of military-political stability and good neighborliness, ensuring an adequate naval presence of the Russian Federation in the region on a permanent basis."
In the arctic regional direction, the maritime policy base is: "reducing the level of threats to the national security of the Russian Federation and ensuring strategic stability in the arctic region; strengthening the naval potential of the Russian Federation, the development of the forces (troops) of the Northern Fleet; strengthening the economic potential of the Russian Federation by expanding the use of the natural resources of the continental shelf, including exploration and other provisions.