On July 23, 2015, at the parent enterprise of Zvezdochka Ship Repair Center OJSC, which is located in the city of Severodvinsk, the ceremony of laying the Akademik Makeev armament marine transport project 20181, which will be part of the Naval
fleet
Russian Federation, reports
blog
Center for Analysis of Strategies and Technologies.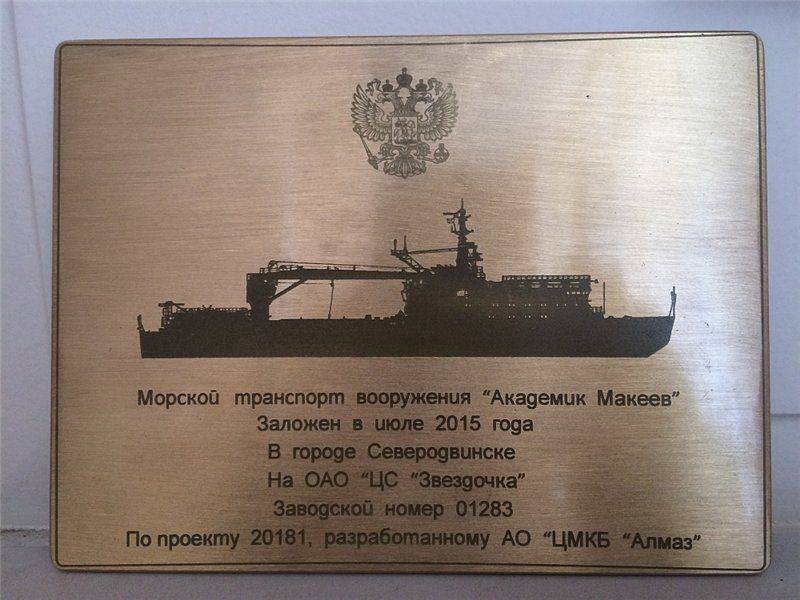 It is planned that the construction of the vessel, developed by the specialists of the St. Petersburg Central Marine Design Bureau Almaz, will be completed by 2018.
The contract for the supply of this sea weapons transport was signed with the Russian Ministry of Defense 1 last September. The main purpose of the ship 20181 reinforced ice class project is loading, unloading and transportation of various types of weapons by sea.
"Akademik Makeev" is the second sea transport of armament, which is built on the 20181 project and the fourth ship of the 20180 project family. The head unit of the series - a rescue tugboat, dubbed the "Star" and built on the basic 20180 project, was laid in Severodvinsk on September 3 on the 2004 of September, launched on the 20 of December on the 2007 of the year and introduced into the Northern Fleet of the Russian Federation on July 24 of the 2010.
"20 December 2011 of the year" Zvezdochka "laid the sea transport of weapons" Akademik Kovalev "(building number 01318) on the revised project 20181 (2018TV), launched on July 30 2014 of the year and planned for delivery to the fleet in 2015. It is assumed that he will join the Pacific Fleet, "- noted in the material.