The Kremlin's press service reported that during telephone conversations with the heads of state of the "Norman Four" - German Chancellor Angela Merkel, French President Francois Hollande and Ukrainian President Petro Poroshenko - Russian President Vladimir Putin stressed the need to establish a direct dialogue between Kiev and Donbass, and He also appealed to the Ukrainian side to coordinate with the DPR and LPR and legally consolidate the special status of the respective territories.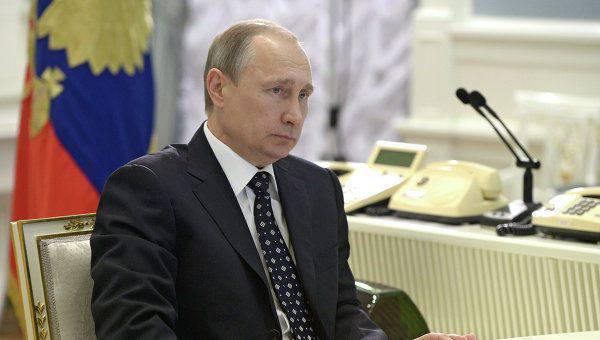 "AT. V. Putin again emphasized that a sustainable comprehensive settlement of the internal Ukrainian crisis is impossible without Kiev establishing direct dialogue with representatives of the Donbas. The President of Russia called on the Ukrainian side to strictly follow the letter and spirit of the Minsk Complex of Measures. In particular, to coordinate with the DPR and the LPR and enact on a permanent basis the legislative formulation of the special status of the respective regions and the law on amnesty, as well as to determine the modalities and procedure for holding local elections, "the RIA press service reports.
"News"
.
The Kremlin also noted that the leaders of the "Norman Four" were satisfied with the approval of the document providing for the withdrawal of 15 kilometers from the line of contact between the militia and the Ukrainian security forces.
"Satisfaction was expressed that after the announcement of the DPR and LPR on the voluntary unilateral withdrawal of weapons with a caliber of less than 100 mm and its actual beginning, within the framework of the subgroup of the KG on security, it was possible to agree on a withdrawal document 15 km from the contact line
tanks
mortars in caliber less than 120 mm and artillery guns less than 100 mm. The task of speedy signing the aforementioned document and implementing this agreement supplementing the Minsk Set of Measures is emphasized, "the Kremlin's press service noted.