For a long time, the OSCE special mission stubbornly "did not notice" what is happening in the Donbass. According to representatives of the OSCE SMM, the withdrawal of equipment from the line of contact by the militia is not a withdrawal at all, but "increased movement"; residential areas of Gorlovka and Donetsk are shelled by "unidentified formations from the north-east." However, on the eve of the OSCE SMM, perhaps for the first time, "something" noticed ... She noticed that the residents of Donetsk, who were already sick of the hypocrisy of the "missionaries", noticed on the special mission vehicles the words: "We need the truth" and "$ ley".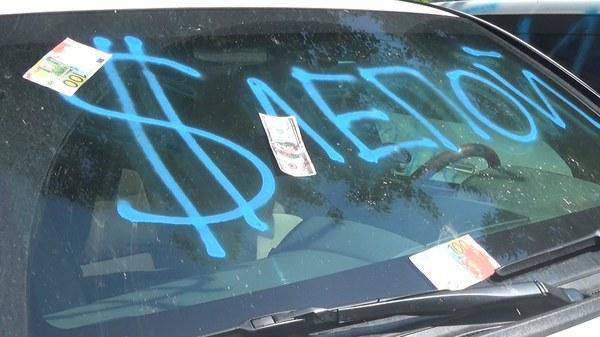 So, the paint on their cars excited the OSCE SMM much more shelling residential areas of the cities of Donbass and much more punitive measures against Kiev in relation to their fellow citizens. And that says a lot ...
The head of the OSCE special mission, Hug, demanded that the DPR authorities conduct a thorough investigation and identify those who "committed an act of vandalism" by painting mission vehicles with paint.
On the eve of the Hug, speaking at a briefing in Donetsk, said (quote
RIA News
):
Representatives of the DPR are responsible to investigate an act of vandalism. I hope the results will be soon. I demand them tomorrow morning or tonight. I hope Martynov (the mayor of Donetsk, who spoke on Thursday as part of an initiative group that required an unbiased assessment of the events in the Donbass - OSCE) on the eve of the OSCE CMM, will be able to meet me as soon as possible.
And why Hug did not seek a meeting with the mayor Martynov after shelling by the Ukrainian security forces of the Donetsk quarters? ..