A source in the field of military-technical cooperation told a RIA journalist
"News"
that at the beginning of this week, another round of negotiations on Mistral-type helicopter carriers was held in Moscow, during which the return of Russian communication systems was discussed.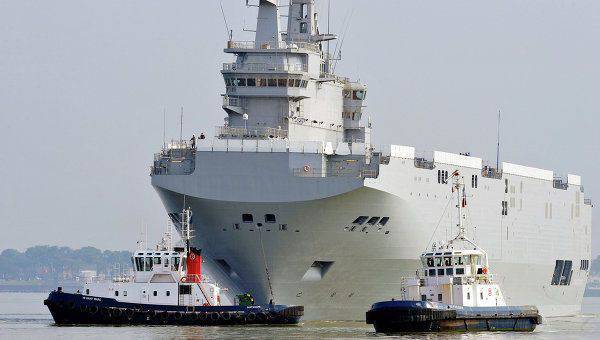 Earlier, the same source reported that the agreement on French ships was actually ready for signing, the parties determined the amount of the penalty in the 1.2 area of ​​a billion euros, that is, the Russian Federation would return all the money spent under the contract.
"At the next round of consultations this week in Moscow, the parties discussed force majeure situations involving the return of equipment already mounted on the ship to Russia. We are talking, in particular, about the communication systems that must be returned to Russia in fact in the same form in which they were delivered to France at one time, "the source said.
According to him, the return, of course, will not affect the stern parts built by the Baltic plant in St. Petersburg, which have already been mounted on helicopter carriers.
Earlier, the negotiations on the French Mistrals are close to completion, and an agreement on the return of funds from the Russian Federation will be signed in the near future, said Vladimir Kozhin, Russian presidential aide on military-technical cooperation.
In early July, French Defense Minister Jean-Yves Le Drian officially announced that breaking a contract with Moscow would cost 1.2 a billion euros to Paris.
It is worth recalling that the contract providing for the supply of two helicopter carriers was signed in June 2011 of the year, but was not executed by the French side because of events in Ukraine. The first ship Russia was to receive in October 2014 of the year, the second - in 2015 year.