At leisure, inquiring about the citation of my articles online, I stumbled upon Vugar Hasanov's angry essay on the website
Vesti.az
where the author with fury attacked your humble servant, comparing it with the well-known TV presenter Vladimir Solovyov, about whom he is also extremely low opinion. The reason was the old small
article
, once published on the portal "VO". Apparently, the word "client" that I applied to Azerbaijan, and a few other points, which I will touch on below, especially hooked on the author of the text. I regret that I discovered the attack only six months later and answer only now, but better late than never.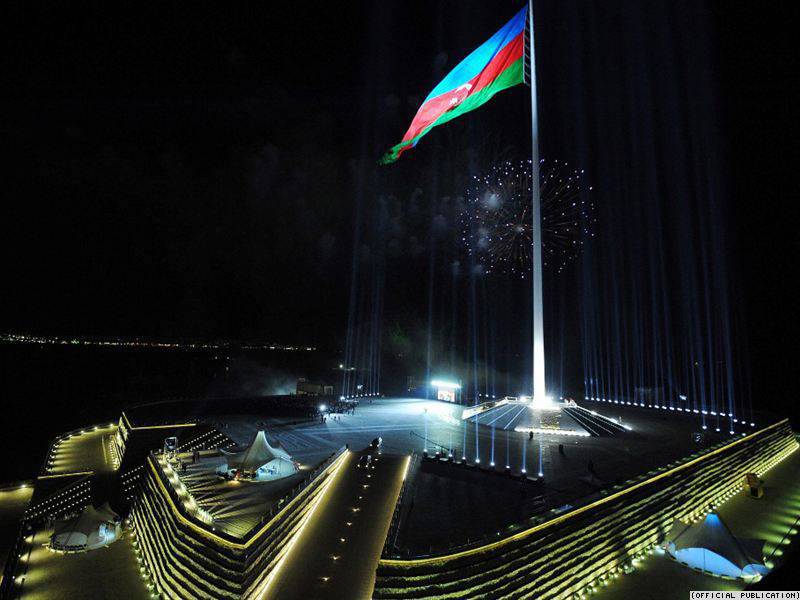 First, of course, a pleasant comparison with Mr. Solovyov, although we are playing with him, let's say, in several different weight categories. The fact that we are with him on this issue adhere to a common civil position is not proof of the targeted persecution of Azerbaijan. It only shows that a certain opinion has already formed in Russian society regarding the southern neighbor, which did not arise yesterday. And it is Azerbaijani citizens who should think how to rectify the situation.
Secondly, the word "client" is not demeaning, it only reflects a certain position of the state in relation to great powers. For example, we, Russians, objectively understand that now our country is often the youngest partner of China, but this is a harsh geopolitical reality. With respect to Azerbaijan is still easier. And this is also an objective reality. Of course, humanly I deeply understand the desire of the citizens of Azerbaijan to see their country independent, building an equal policy with all the world forces. The trouble is that by no means can Baku lead an independent policy without looking at its main "partners."
For example, until recently, Azerbaijan was the main element of the not too successful TANAP project, as well as the obviously failed Nabucco project. From the point of view of Baku, this is a profitable diversification of supply routes, which is certainly good for him. For Russia, these projects mean embedding Azerbaijan into a frankly anti-Russian energy axis (at least fifty years, such pipelines simply do not build for a shorter service life), where the rules of the game will not be dictated by him. After that, you can broadcast as much as you like about Baku's "independent" and "multi-vector" policy - this will in no way change reality. After the entry of the gas transmission corridor into service, the emergence of numerous "military advisers" in the Transcaucasian republic will become only a matter of time. After all, valuable property must somehow be protected! And there is no doubt that the gas pipeline from Azerbaijan to Europe will be implemented in one form or another - the main political idea of ​​Turkey and the EU is aimed precisely at this outcome. The question is only in geography, timing and price of such a difficult plan.
In military terms, everything is also very difficult. Yes, the lion's share of Azerbaijani weapons comes from the Russian Federation, but a lot of Baku also buys from Israel, Turkey and the EU countries. It would be naive to believe that the purchase
weapons
the country does not bind the buyer to the supplier. The fact that Russia almost does not use this tool in its foreign policy does not mean that other countries will be just as noble. And we, Russians, are also obliged to take this into account. The presence of Armenia in the CSTO also forces all those involved in geopolitical strategies in Russia to consider Azerbaijan as a possible adversary. Hopefully, these calculations will remain just a theory.
Further, Mr. Hasanov announced that Azerbaijan deliberately abandoned the path of European integration. An interesting conclusion. Naturally, if you are not allowed somewhere, then it is even psychologically simpler to state that you didn't really want to. Baku made it clear that he has no chance of European integration. They do not even have much closer and culturally and geographically to Europe countries. For example, in Russia. We will modestly keep silent about Turkey, which has been knocking on European doors for decades.
Also, the author of the article undertook to assert that Azerbaijan is almost in opposition to the United States, since the latter criticize its policies. It is not even funny. For information of Mr. Hasanov, the Americans criticize almost all even the closest allies. And Israel, and Japan, and Saudi Arabia, and Turkey for a variety of reasons. What for? Yes, so that they do not relax and remember that they also have a "big cudgel" in case they turn away from the true path. The political orientation of modern Baku quite suits the Americans, and if someone considers himself "proud and independent" and at the same time acts entirely in the interests of the United States, then why change something?
In order to become independent, Azerbaijan needs to be at least two to three times more territorially and in terms of population. The territory provides strategic depth and resources for the creation of an independent processing industry. Iran has created something like this. Being built into foreign (energy, and not only) projects, where other people's rules apply, the country really becomes a "client".
Actually, from the understanding of this simple fact, there is a distrust of the "independent" Azerbaijani policy on the part of Russian observers of all levels, from Mr. Solovyov to Comrade Kabardin. For internal Azerbaijani audience
stories
about a proud and independent republic, maybe they are suitable, but from the outside world everything looks somewhat different.
And finally, Mr. Hasanov. Announcement by anyone of obvious aspects of reality is not a provocation. Resentment to this only confirms the validity of the charges. We, Russians, are ready to criticize our Motherland so that it becomes better and correct obvious shortcomings. Are Azerbaijani journalists ready to take an objective look at their country's place in the world, this is a big question ...