The Ministry of Defense of the Donetsk People's Republic reported on Kiev's plans to conduct an unscheduled seventh wave of mobilization.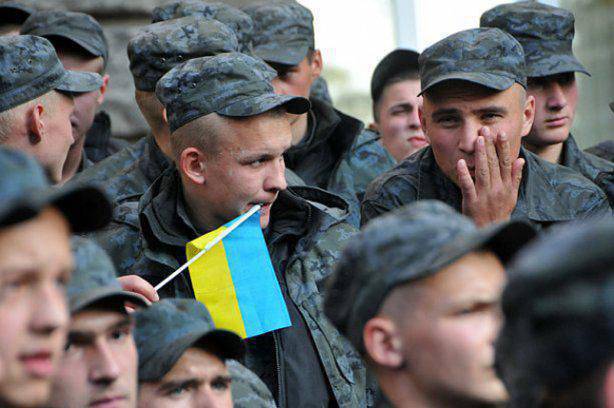 "Exploration of the DPR produced a document confirming the persistent rumors and assumptions of recent weeks about the plans of Kiev for the beginning of the seventh, unscheduled mobilization,"
"Donetsk News Agency"
.
The order of the Acting Military Commissar of the Kharkiv Regional Military Commissariat Kozak fell into the hands of the scouts, which contains the order: "to all generals, admirals, officers, warrant officers, midshipmen, sergeants, soldiers and sailors of the reserve who live permanently on the territory of the Kharkiv region, upon receipt personal agenda of the military commissioner, to appear in time for the items specified in the personal agendas. "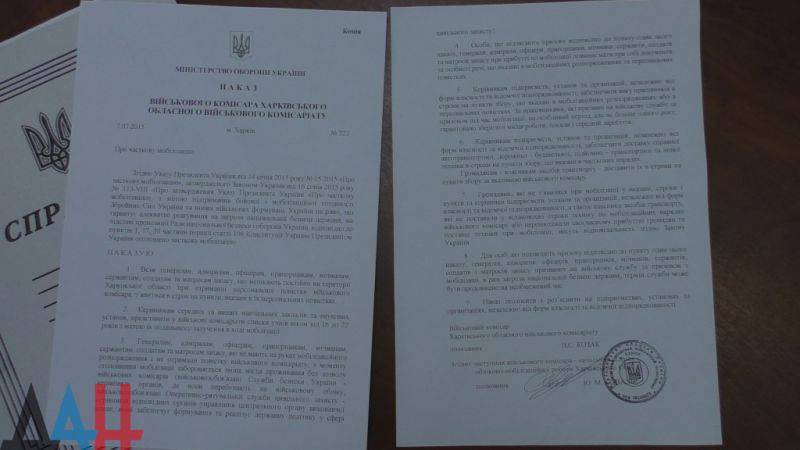 In addition, it is prescribed to "heads of secondary and higher educational institutions and scientific institutions to submit to the military commissariats lists of students aged from 16 to 22 years with a view to their further involvement in the course of mobilization."
The document contains a number of clarifications on the procedure for carrying out unplanned mobilization.
"Heads of enterprises, institutions and organizations, regardless of the form of ownership and departmental subordination, ensure the delivery of serviceable road transport, road construction, material handling and other equipment within the collection points that are indicated in partial outfits. Citizens - owners of transport - to provide them in time for collection points at the direction of the military commissioner. " At the same time, it is noted that in case of failure of the owners to supply the required vehicles, they will be liable in accordance with the law, "the order says.
It is also noted that "in the event of a threat to the national security of the state, the period of service may be extended for an unlimited period."
The Ministry of Defense of the DPR stressed that similar orders, which come into force in the second half of August, are distributed throughout all Ukrainian regions.
"The main task of the plan of the Kiev authorities will be to increase the number of military personnel by expanding the age criteria for recruiting recruits from 16 years and extending the life of a previously called for an unlimited term due to the threat to Ukraine's security," the agency said.