The president of Ukraine and, as it turned out, the supreme commander of her army took part in the opening of the exercises of the Ukrainian Navy in the Bug estuary. Having arrived with a visit to the Nikolaev area, Poroshenko declared that he "is pleased to see the reviving force of the Ukrainian army and
fleet
". Immediately after this statement, a photo with a signature appeared on Poroshenko's Facebook page.
"Military exercises in the Bug estuary. Glory to the marines who defend Ukraine! "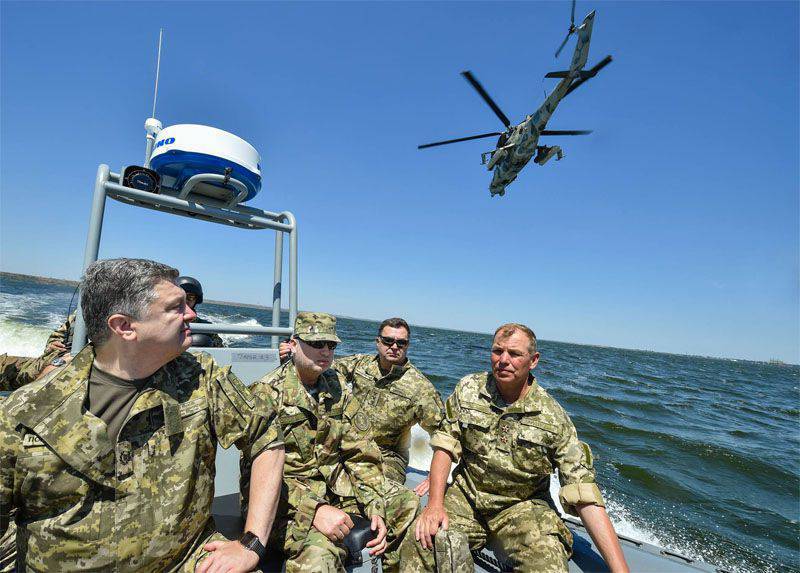 The press service of the Ministry of Defense of Ukraine reports that Petro Poroshenko got acquainted with the course of the tactical exercises of the Ukrainian Navy, along with the main NSDC Turchinov and Defense Minister Poltorak. Accompanied by the commander of the Ukrainian Navy, Haiduk, all these persons went into the Bug estuary on a boat to watch the landing on the unequipped coast.
From the press service of the Ministry of Defense of Ukraine:
The exercise was conducted in the water area of ​​the Bugsky estuary in the Nikolaev region with the participation of marines, special forces, surface ships and boats of the Ukrainian Navy, as well as marine aircraft
aviation
Navy, Air Force and Ground Forces of the Armed Forces of Ukraine. Practical skills of personnel were practiced in a dynamic environment, as close as possible to a real one with all stages of landing an amphibious assault on an unequipped coast, taking and holding a bridgehead. Interspecific interaction from the sea and from the air was also worked out.
Separately, it is reported that the purpose of the exercise was to develop the skills of the actions of military personnel in the event of "different scenarios in the coastal area, in particular, in Mariupol". At the same time, nothing is reported on how Ukrainian ships will, if necessary, approach Mariupol from the Black Sea, because the Kerch Strait, which is owned by Russia, will stand in their way, and "not everything is so clear" for the maneuvers what's left of the ukroflot (unless, boats) ...