Republics of Donbass declared their readiness to unilaterally withdraw the 3 km from the contact line of weapons with a caliber less than 100 mm. This newspaper reports
Look
.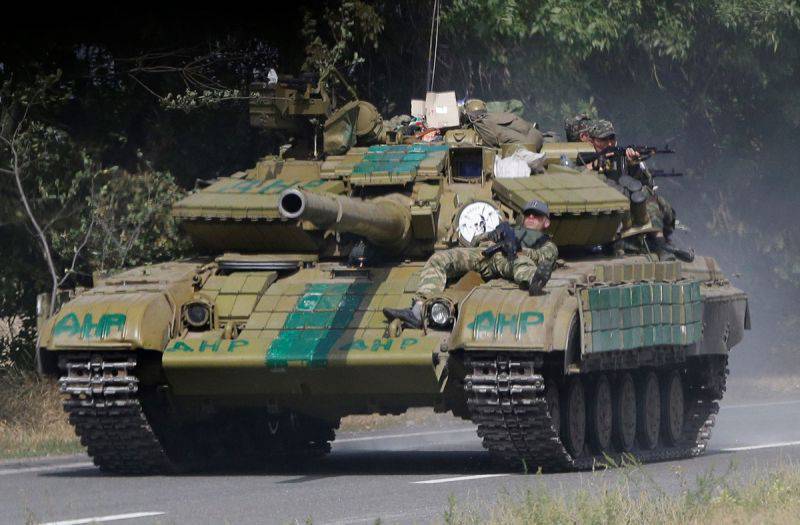 "Demonstrating our commitment to the Minsk agreements, we are ready to take the next step towards peace. To do this, take your units with
tanks
and armored vehicles equipped with guns up to 100 mm in caliber, from the contact line to a distance of at least 3 kilometers. I will make a reservation right away that we are ready to do this on the entire front, with the exception of problem areas, "said the head of the DPR, Alexander Zakharchenko. - Now these are areas north of Donetsk and Debaltseve. Together they make up only 10-12% of the length of the demarcation line. "
For these problem areas, Donetsk is "ready to conduct a dialogue, but only with those representatives of the Ukrainian side who have real power and authority there."
In Lugansk, the initiative was supported. "The leadership of the Luhansk People's Republic supports the initiative of the Donetsk Republic to speed up the normalization of the situation in the Donbas," said the representative of the republic, Vladislav Daney.
"For our part, we are ready to withdraw all our military equipment and artillery in caliber to 100 mm at a distance of at least 3 kilometers from the contact line. The only exception for us is the district of Happiness, from where we will be ready to withdraw the remaining equipment and weapons only after the Ukrainian side fulfills similar obligations in other areas, "he said.
The representative of the LNR added that the authorities of the republic intend to invite OSCE observers to the area to create a permanent observation point there.
At the same time, the head of the DPR, Zakharchenko, reported on the build-up of Kiev by the grouping of troops in the Donbas. "At present, more than 70 of thousands of Ukrainian military personnel are concentrated along the line of demarcation. Every day this number grows, "he said.
According to him, Ukraine demonstrates an unwillingness to resolve the conflict peacefully. "At the last meeting in Minsk, the issue of the withdrawal of weapons was discussed. Ukraine rejected the contract, saying that tanks and mortars should be left, "said Zakharchenko.