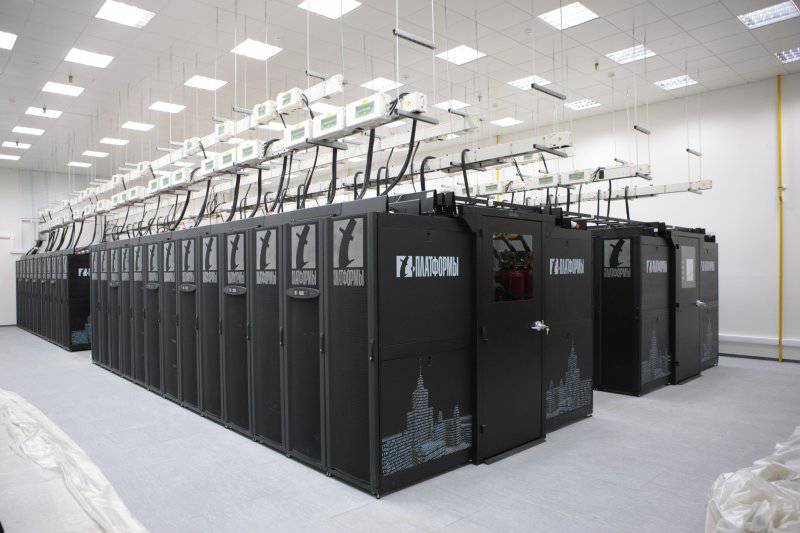 The army wants to get a supercomputer that provides 150 billion operations per second.
The microprocessor is developed mainly for use in the composition of the detection, both radar and sonar. It is also planned to use it in computer systems for simulating tests of weapons systems of the new generation.
Profit of the future developer is determined by the technical task in 15%, which is 98,8 million rubles.
- It will be a supercomputer at a very high technological level, - says Andrei Mitrofanov, spokesman for T-platforms. - The performance of the 150 Gflops processor is a very good indicator. The computational nodes that we use in ourselves support such performance and even more, but it is achieved through the operation of several microprocessors. Here we are talking about achieving this result with just one. At the same time, there may be dozens of such processors in the final machine.
The "Lomonosov" computer installed at the MSU Research Computing Center is considered to be the absolute champion in power among Russian supercomputers. The peak power of the machine is 1373.06 Tflop (1373 trillion operations per second), which is achieved through the use of 33072 cores.
All the "super" in the Russian industry can be divided into two categories. The first in the long term can lead to the emergence of something new, innovative. For example, cancer and HIV drugs are modeled on a supercomputer at Moscow State University. The rest provide practical research for large companies. They conduct advanced research, such as the study of deposits of minerals, ore and oil and gas fields.
In this case, we are talking about creating a machine capable of supporting the work of high-tech equipment.
- What took earlier than a decade or years can be done on a supercomputer in a month or six months. "All models of something new, be it an airplane or a complex detail, are always first modeled on a computer," says Mitrofanov. - At the beginning of the development of new shelves, when there is an active research process, the use of supercomputers reduces the budget dozens or even hundreds of times.
In the aircraft industry, the use of their "super" allows such giants as Boeing and "Dry" not to create a dozen prototypes, but to create a computer 3D model and adjust it as the research goes, Mitrofanov notes. As a result, research and design activities are optimized, and the time and cost of work are significantly reduced.
The Ministry of Industry and Trade was unable to promptly comment on the order for the development of a supermicroprocessor. Nevertheless, in the technical specifications of the ministry it is indicated that the need for a product for the first year after the completion of the development work will amount to 1 thousand. In the third year after the end - 100 thousand. The price of a serial microprocessor should be no more than 9 thousand rubles.