On July 15, in the 60 training center for the combat use of rocket troops and artillery of the Ground Forces of the Russian Federation (Kapustin Yar proving ground), the transfer ceremony of the next, brigade set of the tactical missile system 9K720 "Iskander-M" to the personnel of the 103-13 separate missile Red Army order was held. and Bogdan Khmelnitsky Brigade of the 36 th Army Armament Army of the Eastern Military District (VVO), reports
blog
Center for Analysis of Strategies and Technologies.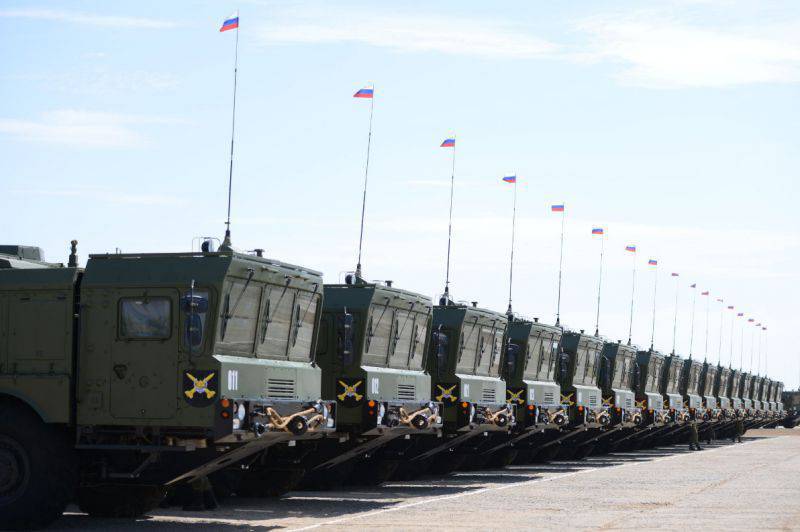 The ceremony was attended by the Chief of Staff of the Higher Military Command, Lieutenant-General A. P. Lapin, the Head of the Missile Forces and Artillery of the Ground Forces of the Russian Federation, Major General M. M. Matveyevsky, General Designer of the Scientific-Industrial Corporation "KBM" OAO V.M. Kashin, General Director of TsNIIAG A B. Shapovalov and others.
The ground forces received a complete set of 51 units of equipment: self-propelled launchers, transport-loading machines, rockets, a comprehensive automated control system, technical condition control devices, a data preparation station.
"This is already the fifth set of the Iskander-M complex to equip the rocket brigade, delivered under the state contract З / 3 / 1 / 24-11-DGOZ from 4 August 2011 of the year between the Ministry of Defense of Russia and Scientific Production Corporation OJSC KB Mashinostroeniya "(included in the State Corporation" Russian Technologies "), as the sole supplier of the Iskander-M OTRK, for the supply of ten brigade sets of the Iskander-M complex, and the first set transferred in 2015 year. With the batch of the OTRK brigade" Iskander-M ", delivered in 2010-2011, now six rocket brigades of the Russian Ground Forces are equipped with this complex, "the blog says.
During the ceremony, V. M. Kashin, General Designer of NPK KBM, said that the Russian Defense Ministry would receive the next Iskander brigade set in due time — in November of the current year.