A spokesman for the Ukrainian nationalist organization Right Sector, Artem Skoropadsky, said that the current president of Ukraine, Petro Poroshenko, will not be able to escape in the event of a new coup d'état.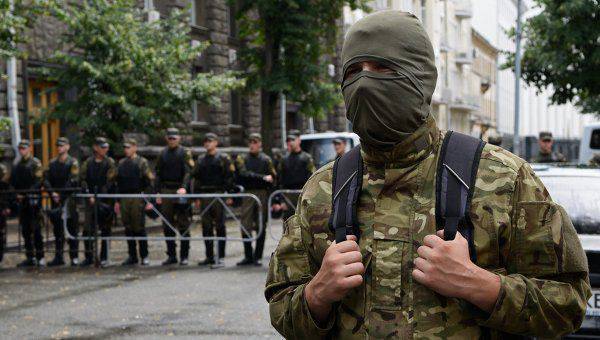 "If there is a new revolution, the Ukrainian president Poroshenko and his associates will not be able to escape from the country in the same way as the previous president did. They can expect nothing more than a penalty in some dark basement that will be performed by a group of young Ukrainian military or members of the National Guard, "RIA says.
"News"
.
Skoropadsky stressed that the Right Sector does not call for a coup, but it will happen in any case if the current authorities continue to ignore the demands of citizens and soldiers of the volunteer battalions.
It is worth noting that earlier the German political analyst Andreas Umland said that the Ukrainian nationalist forces understand that they do not have enough support from the citizens, but they may try to seize power with the help of force. According to him, in the event of a conflict between the authorities and the radicals, the Ukrainian armed forces can take the side of the latter.
Dmitry Reznichenko, a blogger and fighter of the Donbass battalion, noted that they needed a "correct figure" for the role of "dictator and savior of the country", also wrote about the possible forceful seizure of power.