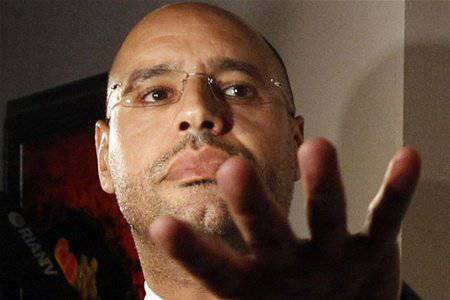 The son of Colonel Muammar Gaddafi - Saif al-Islam made an official appeal to the Libyans through the Syrian media, stressing that he is in Libya and continues to fight, and the PNS forces will be responsible for the murder of his father, RBC TV informs.
The corresponding statement was transmitted last night by a loyal TV channel to the former regime of Libya, which broadcasts from Syria.
Earlier on one of the websites of the deceased leader of the Jamahiriya, a message appeared in which S. al-Islam was called the new leader of the resistance forces of the transitional authorities.
The Libyan authorities have not yet responded to this statement. Now they are preparing to announce the end of the civil war and decide when and to whom of the relatives of M. Gaddafi to transfer the body of the colonel for burial.
Earlier it was reported that Libyan pathologists conducted an autopsy on the body of M. Gaddafi. Information about this spread agency Reuters. According to one of the experts who performed the autopsy, the colonel's death was caused by a gunshot wound to the head.