On the eve of the adviser to the President of Ukraine Poroshenko Yuri Biryukov on his page on Facebook published a note, which refers to the total looting and sale of volunteer assistance. According to Biryukov, they plunder and sell (through online stores) "aid" both officers and soldiers. Introducing Biryukov's post on Facebook (the author's text is unchanged):
I really didn't want to write this post, but ... But the truth is more expensive, even if dirt was found in the most beloved battalion - in the Phoenix volunteer battalion, 3-m batte 79y brigade.

The call of director Talan caught me by surprise - new army berets are being sold on the OLX. But the photos were instantly determined - the party for the Phoenix battalion, issued bright and thick shoelaces, for the army there are others.

Called, bought, questioned. Yes, the 8 company fighter sent the berets to his son home. New, with a box, tags are not removed. The son seemed to be going to serve in the Ministry of Emergency Situations, so my father was a warrior and decided to give my son a gift. And my son decided to earn 1400 hryvnia. Such are the cases.

Volunteer help steal. Lot. Both officers and fighters. I write this for the reason that it hurts and bitterly. Just want to let off some steam. Steal. We have such people in the mass. But this does not mean that I will give up. This does not mean that I will stop looking for money and buy fighters things, optics, shoes. Because most are my heroes. Our heroes.

And such ... Such tomorrow will fall into the morning summary of non-combat 300-x, something like "fall from the ladder."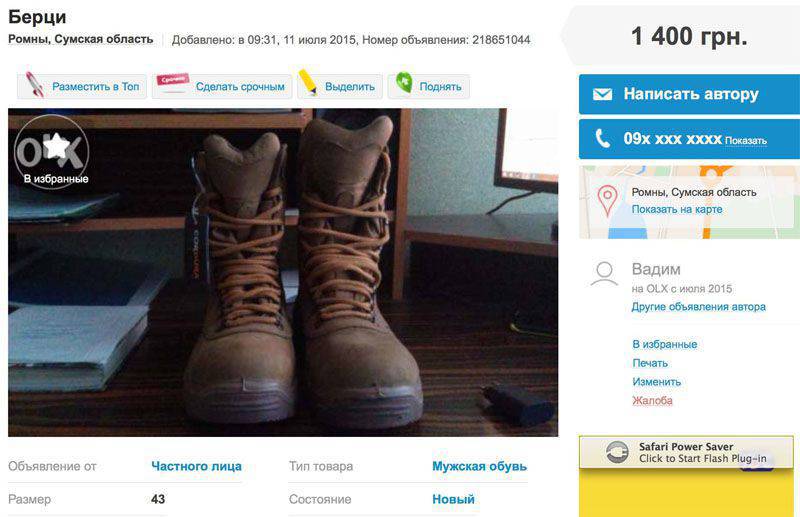 That is, Biryukov also confirms that there is a practice in the APU and the National Guard under the practice of recording the loss of fighters by "non-combat" - as an example, the aforementioned "fall from the ladder" ...
And after all, this is not the first report about the theft of volunteer assistance, as well as assistance coming from abroad. So, immediately after the arrival of American dry rations to Ukraine, a considerable part of them was sold out through online stores, not even reaching army stores.