Andrzej Zapalowski, a high school teacher in Přemysl, one of the leaders of the Polish Geopolitical Society, said that after the shooting in Mukachevo, it became clear that the Ukrainian nationalist organization Right Sector was dangerous not only for Ukraine, but also for neighboring countries - Hungary, Poland and Slovakia.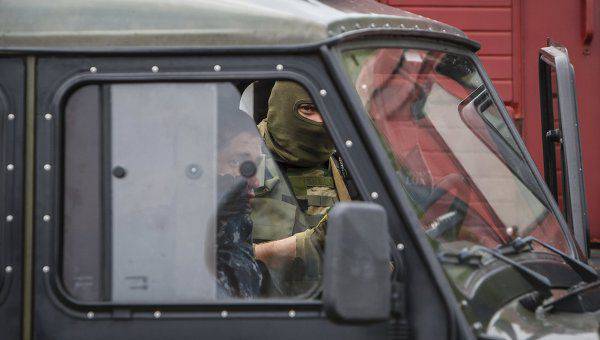 "And all this is directly at the borders of the European Union countries - Poland, Hungary and Slovakia! "Right Sector" sows the seeds of terrorism, banditry, illegal distribution in Ukraine
weapons
anarchy. And this is the path to destabilization in countries that border Ukraine, "RIA quoted him as
"News"
.
Zapalovsky stressed that since the beginning of the conflict in the east of Ukraine "it was clear that the actions of organizations of an extremely nationalistic sense would lead to an increase in tension in the country."
"The program of the Right Sector says that this organization will continue the traditions of its predecessors from the UPA, and the Poles know very well what kind of traditions they are. In the period between the two world wars, it was Bandera who organized more than 3 thousands of terrorist attacks on Polish territory, "he added.
According to the analyst, "the recent events in Mukachevo showed that people from the" Right Sector "came to Transcarpathia with arms in the name of establishing" their own order "there.
"They were afraid to show their strength in the south-east of Ukraine, which would be too dangerous for them, but it seemed to them that Mukachevo was easy prey. In Transcarpathia, as you know, there are ethnic minorities of Hungarians and Romanians, Orthodox Russians also live there, for whom the ideology of the far-right Ukrainian nationalists is alien. Thus, this territory must be forced to accept the Western-Ukrainian nationalist ideology. And now people from the "Right Sector" provoked a shootout there, "he stressed.
According to Zapalovsky, the Kiev authorities are not able to control the situation in the country.
"In Ukraine, the decline in the standard of living continues, other crisis phenomena, which may lead in the future on the wave of general discontent and disappointment to fight with the current government. And this can lead to civil war, "he noted.
According to him, people who are suspected of terrorism in Ukraine will move to the EU and begin to establish their own rules there, and "this is not about individuals, but about groups of several dozen people."
"I am shocked by how little the Polish media writes about the armed actions of the Right Sector. But this is understandable: after all, Warsaw supports the policy of the official authorities of Ukraine, does not want to upset them somehow, "he added.
Zapalovsky stressed that Hungary and Slovakia have already begun to strengthen the protection of their borders, but he does not know whether such work is being done in Poland.
"Of course, the ideology of the" Right Sector "is dangerous, at least for the border areas," he concluded.