The head of the Ukrainian cabinet of ministers said that it was necessary to denounce the agreement with Russia on the completion of the Khmelnitsky nuclear power plant. At the same time, Yatsenyuk declares that the responsibility will rest on Russia, since, according to him, Russia does not fulfill its obligations to complete the construction of the 3 and 4 units of the nuclear power plant. Reports about it
RIA News
.
Yatsenyuk:
We have already been talking about completing the blocks for a year. It surprises me why the Foreign Ministry for a month and a half is slowing down the government's decision to denounce an agreement with the Russian Federation, where Russia actually wanted to seize monopoly on several power units in Ukraine.
Capture several power units? .. What is he talking about? ..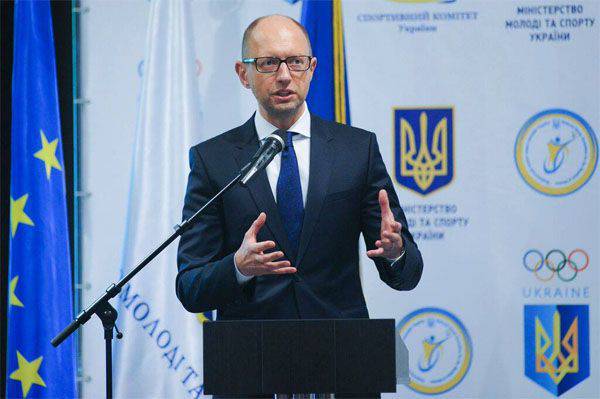 According to the project Khmelnitsky nuclear power plant was to consist of 4-x power units. The first unit was commissioned in the 1987 year. The launch of the second power unit was supposed to be carried out in 1991 year, but the collapse of the Soviet Union "shifted" these plans by 13 years. In addition, in 1990, Ukraine adopted a moratorium on the construction of new nuclear power plants and power units. The second power unit of KhNPP was launched only in 2004 year.
According to the agreement between Ukraine and Russia, Rosatom was supposed to complete the implementation of the Soviet project by building two nuclear power units. Now the implementation of these plans, apparently, will "shift" due to the forthcoming decision of the Ukrainian authorities on the denunciation of the contract.
In addition to the statement about the need to denounce the KhNPP contract with Russia, Yatsenyuk stated that the state-owned Oschadbank of Ukraine filed a lawsuit for "compensation" by Russia for "damage" from the "annexation" of Crimea. The amount of the claim - 15 billion hryvnia.
Yatsenyuk wrote on his Facebook page:
I just received information that the State Oschadbank of Ukraine filed a lawsuit against the Russian Federation in the amount of about 15 billion hryvnia for compensation for harm and losses caused by Russia by the illegal annexation of Crimea, and, accordingly, the loss of income and property by the bank on the Ukrainian territory Crimea.
I appeal to all other Ukrainian state-owned companies. Follow the example of Oschad in order to bring Russia to responsibility and recover damages from the Russian Federation for the illegal annexation of Crimea and, accordingly, a temporary loss of Ukrainian property.
And when will the Ukrainian Prime Minister start working for the benefit of the Ukrainian state instead of scratching his tongue and filling Facebook with delusional notes?