Companion Yanukovych proposes to judge Yushchenko for fraud with the supply of arms to Georgia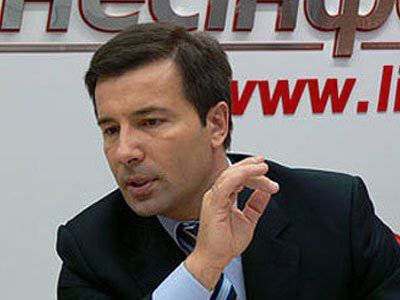 People's Deputy from the Party of Regions Valery Konovalyuk believes that the country's ex-President Viktor Yushchenko should take a seat in the dock next to former Prime Minister Yulia Tymoshenko. The statement of the deputy released the press service of the Party of Regions, a REGNUM correspondent in Kiev today, 19 of October, reports.
In particular, answering the question when Yushchenko will answer for the sale of military equipment of Georgia, Konovalyuk said: "I would welcome if Viktor Yushchenko and his entourage sat next to Tymoshenko on the dock." "Since I believe that the former president of Ukraine and his entourage for five years led the country to bankruptcy with impunity, and as a result - a huge drop in the standard of living," said Yanukovych's associate. Konovalyuk recalled that he headed the interim investigative commission of parliament to investigate supplies
weapons
to Georgia. "One of the main suspects should be the ex-president of Ukraine Viktor Yushchenko. The investigation proved that financial frauds related to the supply of arms to Georgia were personally patronized by Viktor Yushchenko. The commission believes that Ukraine sold Georgia's weapons to more than two billion dollars, although at the same time, the state budget received only 200 million, "he stressed. "Next to Tymoshenko there should be not only Yushchenko, but also many" love friends "who are mired in corruption and abuses," concluded Konovalyuk.
Note that in the 2010 year it was already announced that Yushchenko could be tried for the supply of arms to Georgia. Then, the Prosecutor General's Office of Ukraine, having studied the materials provided by the investigating commission for the investigation of arms supplies to Georgia, opened a number of criminal cases and it was assumed that one of the main suspects could be the third Ukrainian president. "President Viktor Yushchenko controlled Ukrspetsexport and personally gave instructions on the supply of weapons to Georgia. He essentially transferred the state company to the status of" manual control, making it a hostage to his own desires. The government of Yanukovych tried to influence, trying both to reorganize the company and to stop the supply of weapons by other legal administrative methods. However, the administration of Viktor Yushchenko opposed this and attempts to somehow make the military-economic cooperation with Georgia more open to the public were politically engaged and hid, "said at the time Vice Prime Minister of the Ukrainian Government Volodymyr Sivkovich.
Ctrl Enter
Noticed a mistake Highlight text and press. Ctrl + Enter