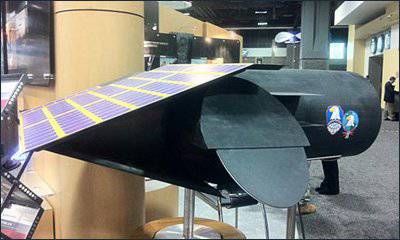 At the annual exhibition and conference of the Association of the American Army in Washington, the public presented the original mini-spy satellite called "NanoEye". In its class, it is unique and, probably, in the near future will go into service with the US Army.
The "net" weight of the eye of the entire 20 kilograms (with fuel - several times more). It will become a maneuverable and cheap device that can record video with high quality resolution for small ground units. A small satellite can be used as an alternative to medium and small unmanned aircraft during hostilities on the territory of the enemy, where in-depth defense systems are located. The service life of such an orbital satellite is still unknown. However, the developers are confident that he will be able to remain in orbit for a long time. This will be possible due to the large amount of fuel, as well as reducing the resistance of the atmosphere to special aerodynamic panels.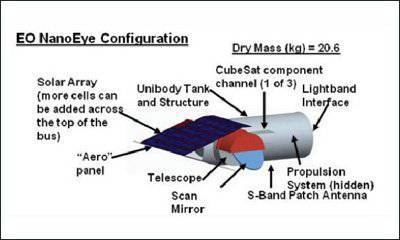 The "NanoEye" equipment allows video recording from very low orbits.
The ground forces will control the "nanoglaz" using conventional satellite communication channels and within 10 minutes they will be able to get a high-quality image of the object of interest to laptops or laptops. "NanoEye" is equipped with a relatively inexpensive, but very powerful electron-optical system. Its engines make it possible not to collide with space debris, and if necessary, provide the movement of the device for very high-quality video shooting. The next year, scheduled testing of satellite subsystems.
At the exhibition of the annual conference of the Association of the American Army held a demonstration of the layout of the satellite "NanoEye"
Of greatest interest is the very method of launching "NanoEyes" into orbit. Low weight makes it possible to launch a satellite with a large number of launch vehicles. However, the most promising and interesting is the possibility of transporting the "nanoglaz" in the cargo compartment of the X-37B unmanned shuttle. The payload mass of the shuttle is 900 kg. "X-37B" may be in a long patrol in space for up to 270 days. And, if necessary, it is able to put the 10 satellites "NanoEye" into the required orbit. Based on the foregoing, the use of mini-spy satellites provides situational awareness of ground forces, even with a loss of advantage in the air or at considerable risk for manned and unmanned aircraft.