With the help of the UAV, the Chinese intend to control the Asia-Pacific region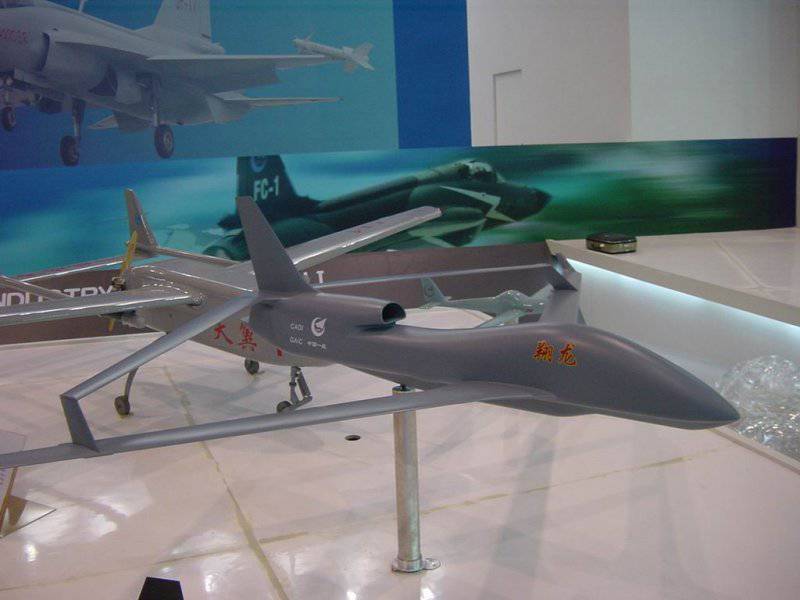 Apparently, the Chinese heavy drone "HQ-4 Xianglong" can begin full-scale flight tests. Assess the importance of such an event for the Chinese Air Force is not difficult, if we take into account that the "Xianglong" - the American equivalent of the UAV "RQ-4 Global Hawk". The American drone was still considered to be a unique and unparalleled aircraft that can carry out long-term observation and intercontinental flights.
According to the video filmed at the Chinese air base in Chengdu, the first test flights of the HQ-4 Xianglong are fully prepared. The Chinese UAV differs from its American counterpart "RQ-4" with a modernized wing, combining a reverse and conventional sweep wing.
Equipped with "Xianglong" one jet engine, which is located on the top of the fuselage. In this way he looks like the American "Global Hawk". The take-off weight of Chinese is 7,5 tons. He is able to take on payloads up to 650 kg, while his cruising speed reaches 750 km / h. Flight range is 7000 km. "Xianglong" will be able to gain altitude up to 20 km and in real-time conditions to monitor the entire Pacific coast.
The original design of the wing "HQ-4 Xianglong" allows you to reduce its span.
Provided that if China succeeds in commissioning the HQ-4 Xianglong, this Asian state will become the second country in the world to be able to conduct unmanned strategic reconnaissance in large areas. Thus, China will receive significant strategic and military superiority due to its considerable situational awareness and the ability to conduct surveillance of distant objects in real-time conditions. The technical features of the HQ-4 Xianglong do not allow him to perform tasks on a global scale, but the new Chinese UAVs will be able to conduct extended surveillance in the Pacific and Asian regions.
HQ-4 will potentially be able to fill the gap in the Chinese guidance system of anti-ship ballistic missiles, which are being actively developed in China in order to respond to enemy aircraft carriers.
The HQ-4 Xianglong was developed by the Chengdu Aircraft Design Institute and the Guizhou Aviation Group. "Chengdu Aircraft Design Institute" gained fame as the developer of the Chinese equivalent of the American unmanned aircraft "Predator".
The new UAV was first shown to the public at an air show in Zhuhai in 2006.
Ctrl Enter
Noticed a mistake Highlight text and press. Ctrl + Enter