Russia clearly stands apart from global insanity on quantitative easing.
The conservative policy of the Central Bank of Russia under Elvira Nabiullina is much more adequate than the wild monetary expansionism of the US Federal Reserve under Janet Yellen.
This would not be the first, but clearly a much greater shock.
That is, if the Bank of England had abducted the head of the Central Bank of Canada some time ago, but although it would be rather unexpected, it would have faded compared to the current head of the Central Bank of Russia, Elvira Sakipzadovna Nabiullina, employed by Americans. However, this seems to be a great idea, honestly.
I do not think that this will happen, do not worry if you are sure that Yellen is exactly what the Fed needs. But Nabiullina is both sharp as a razor and rigidly independent. Yellen is neither one nor the other; a cog in a car that chokes and puffs to make sure that its owners in the blissful world of American finances will get even more profits, no matter how bad things are in American society.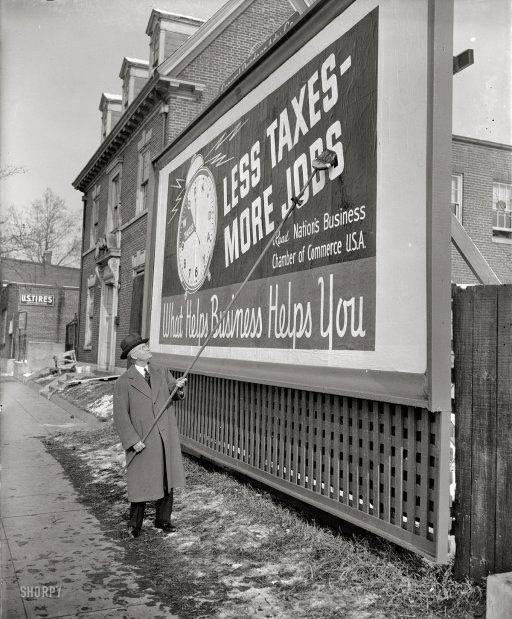 "Less taxes, more work." Poster 1939 of the year.
There is no need for special sharpness to play such a role, and it was chosen precisely because it is NOT independent. Or, say so - she knows how to obey.
Nabiullina is another matter. I'm not very sure that Western readers understand that this is the case, not to mention why. Not after a round-the-clock, extremely intense media campaign, and sanctions, and the oil price war, and the Ukrainian military negotiations, and slander against Putin and Russia; Yes, after all this, we do not even understand what is being played out behind this smoke screen right before our eyes.
If you want, do conspiracy theories, I would say that. Because despite a year of intense attempts to make Russia look like an empire of ineffable evil, the financial markets, yes, yes, the very ones that Yellen manipulated at the request of their owners have now turned the Russian ruble and the Moscow stock exchange into the biggest winners, at least by now. moment.
And all this thanks to the significant efforts of Elvira Nabiullina. You see, if she were a blind or frightened servant of Putin or his economic ideas, it would mean that he organized the restoration of the currency and the stock market.
Think, after all really it should make Vladimir Vladimirovich afraid. If, in addition to all other qualities, searches and actions (to consider them in a positive light or not), he could also do this: save the $ 2 trillion-dollar economy from powerful external attacks.
I'm afraid it is not so - Putin is just an ordinary mortal. One quality he possesses, however (if it were not for this, he would not have lasted for five minutes at the post) - a developed sense for someone he can trust. And he trusts Elvira Nabiullina. She manages the Central Bank from 2013, has not turned 50 for years, but she was a confidant for some time and, most importantly, Putin's personal adviser on economics before taking her current post.
You can look at her career in Google or Wikipedia, interesting, but not too much. What really matters in Nabiullina's career are two defining moments. The moments that made her stand out - and this determined her relationship with Putin.
Of course, you can say that she is less independent than Yellen in the Fed, but who do you fool, do you think? Yes, she has an emergency telephone on her desk, and everyone rushes out of the office when Putin calls on this phone. But Yellen has the same phone numbers to communicate with the US Treasury as with Jamie Dimon and Lloyd Blankfeyne and others who lead banks, and with major dealers. Is it independence?
So, to understand the two points that determined the fate of Elvira Nabiullina. The first one described Bloomberg last month. In mid-December, the 2014 of the ruble came under a terrible attack on the financial markets. Nabiullina has already spent billions of dollars in foreign reserves to support him. Then 16 December, she, in a step that no one had foreseen, raised the interest rate in one fell swoop from 10,5% to 17%.
And that's what next - after that she did nothing. Nothing. No more foreign reserves. "Bloomberg" gives her words:
"The speculators need a cold shower."
Mario Draghi in 2012 said he would do "everything that is required to protect the euro." Nabiullina didn't even have to say anything like that.
The attack on the ruble is over. In January, she lowered the interest rate to 15%, now this rate is 13%. Nabiullina says she expects 9% by the end of the year. The ruble rose 19% against the US dollar in 2015. No other currency has such indicators.
Did Putin order her to do that? They talked about it, and no doubt - a lot. But he knows that she knows better. And he trusts her.
The second moment happened recently, a few days ago, when Nabiullina declared that Russia would not be a squirrel on the wheel of the policy of world central banks — a policy of quantitative easing. According to Bloomberg, she justifies this by saying that she sees problems in using debt to spur growth (you will have a heart attack, Krugman):
Nabiullina sees "limitations" in using debt to finance growth sources.

"The governor of the Central Bank of Russia, Elvira Nabiullina, questioned the use of debt financing as a source of economic growth, stressing the need to use long-term capital, since investments are plummeting. "We need to think about other ways to finance growth, because, in my opinion, financing for economic growth with debt is limited," Nabiullina said at a conference in Moscow on Thursday. "There will be no long-term investment growth in Russia," without such sources of funding as pension savings and life insurance, she said. "

"Excessive debt burden can be not only a catalyst for development and investment, but also an obstacle," said Nabiullina. Regardless of the high level of interest rates, the ratio of debt to Ebitda (earnings before interest, taxes, depreciation and depreciation) "is already a significant burden for companies for the entire industry." According to Nabiullina, bank loans make up 57,6% of the Russian economy. "Mandatory pension savings are crucial for long-term financing sources and the Russian capital market," said the head of the Central Bank.
Let me add from Reuters so that there is a complete picture: The head of the Central Bank is confident in inflation, banks, the ruble.
"Acceleration of inflation ... in our opinion, is temporary. We expect a rapid decline in inflation, unless new unforeseen circumstances arise. " Nabiullina said that the Central Bank will continue to lower interest rates to the extent that inflationary risks will subside. The bank has already cut rates twice this year. "In general, we consider the situation in the banking sector to be stable," she said. "The banking sector maintains a substantial capital buffer and is able to withstand serious blows, even if the crisis deepens."
She said that the stress tests of the Central Bank showed that even if the price of oil falls to $ 40 per barrel, the sector will keep the capital level above the required minimum. Nabiullina also said that the factors that put pressure on the ruble are now missing, noting that payment of foreign debts can be financed without a significant impact on the value of the ruble.
"Thus, the influence of those factors that influenced the exchange rate and inflation last year is gradually fading away ...".
The entire attack on financial markets is "gradually fading away." The girl has a style. Here and in this Nabiullina rights. Damage sanctions? Falling oil price? Russia has already gone through all this.
In the country this year there may still be negative growth. But even so, who would you choose to deal with this where you live? Yellen, Bernanke, Mario Draghi? Or would you agree with a woman who showed that she can not only think outside the box, but also act? Who has the spirit and brains for it ?!
It may well be one of Putin's best self-defense means if the West decides to continue to pester Russia. It seems obvious: we need to take her to work. But with the condition to serve the American people, not Wall Street. But I still do not think that she herself would want it.