Press Service of the North
fleet
The Russian Federation reports that the destroyer Admiral Ushakov has come out to carry out the tasks of the combat training course in the Barents Sea. It is assumed that the crew of Admiral Ushakov will carry out actions to overcome minefields, conduct combat with a surface ship and anti-submarine defense.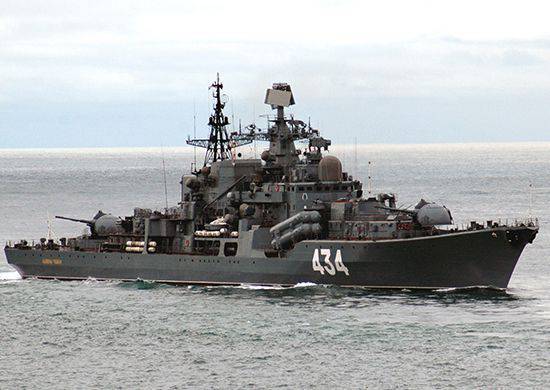 Official
Russian Defense Ministry website
:
Artillery calculations will carry out practical firing at the destruction of sea and coastal targets, including at fast-moving small targets and floating naval mines. Calculations of anti-aircraft missile and artillery armament complexes will reflect attacks of the air attack equipment of a conditional enemy from various heights and directions.
Press service of the Central Military District:
The release of the destroyer at sea was preceded by comprehensive training of the ship's crew in the base. Seafarers from North Sea practiced actions to prepare the ship for battle and march, to shoot from the anchor, to carry out measures of air defense, struggle for survivability in the conditions of anchorage, practiced actions under conditions of chemical, bacteriological and radiation contamination, as well as conducting counter-sabotage defense on an unprotected raid.
"Admiral Ushakov" - the destroyer of the 956 "Sarych" project. Entered into service in 1994 year under the name "Fearless." "Admiral Ushakov" squadron was named 2004 year.
Crew destroyer 296 man. Autonomy - 30 days. Maximum travel speed - 33,4 node. Sailing speed at maximum speed is about 1350 miles. On board it is able to carry the Ka-27PL helicopter. Armed with 2XXXXXXXB 2 mm.