The presentation of a communications complex for the fifth generation fighter T-2015 (PAK FA), developed by the United Instrument-Making Corporation (DIC, part of Rostec), is scheduled to be held within the framework of the Army-50 international military-technical forum.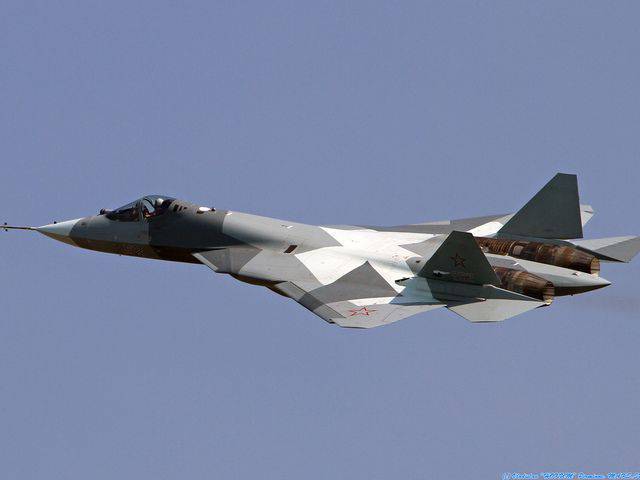 "For the first time at such an event, the C-111 communications complex for the fifth generation T-50 fighter, the Buran family communications complexes for the Navy, the Antey automated centers for senior units of the Ground Forces, the EBS Borisoglebsk-2 and Infauna ", as well as individual products of the automated tactical control system (ACS TZ)", - reports the press service of the military-industrial complex
"Military Industrial Courier"
.
Sergei Skokov, deputy general director of the defense industry complex, noted that the tactical level management system is created within the framework of the concept of network-centric war, which presupposes victory at the expense of information superiority over the enemy. Created communications, data transmission and navigation equipment will allow combining soldiers, guidance, reconnaissance, electronic warfare equipment and weapons into a single information network.
In this case, the command will be able to monitor the situation on the battlefield online, which will achieve a "completely new level of efficiency," said the CEO. A similar technique is already being installed on promising models of equipment, in particular,
Tanks
on the Armata platform, armored personnel carriers and combat vehicles on the Boomerang and Kurganets-25 platforms, as well as Typhoon armored vehicles.
According to Skokov, during the "Army-2015" more than 100 samples of the new technology will be presented, some of which will be shown in closed mode.
"For the first time, the corporation will demonstrate at the forum the elements and workplace of the operator of the automated control system of the strategic missile forces (ACS RVSN) of the new generation," he noted.
In addition, the elements of equipment "soldier of the future" "Warrior" will be demonstrated, including a command personal tablet, a new short-range drone "Corsair" and a unified group management system for mobile complexes with a UAV on the KamAZ chassis.