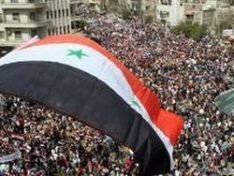 What is happening in Syria on Friday became a stumbling block at a UN Security Council meeting. The French ambassador initiated a discussion of the situation in Syria, although it was not on the agenda, which caused a strong reaction from the Russian side.
Alexander Pankin, First Deputy Permanent Representative of Russia to the UN, stated during the meeting that the French ambassador Gerard Aro did not follow the established procedures, putting forward the issue "not on the agenda".
As reported on the page of the French UN mission on Twitter, Haro said "that supporters of inaction in Syria must draw a conclusion from the latest horrific events."
On Friday, the Syrian military shot dead at least six people protesting against President Bashar al-Assad.
10 days ago, Russia and China imposed a "double veto" on the UN Security Council resolution, which proposed the imposition of sanctions against the Syrian authorities.