Photo. New Navistar: Saratoga - light tactical armored vehicle. Photo: Navistar Defense
Navistar Defense presented a lightweight tactical vehicle as part of the Annual Meeting and the United States Army Association Symposium (AUSA). Such a car will become an intermediate in the modernization programs of the developed and improved highly maneuverable multi-purpose wheeled vehicle (HMMWV), the upgraded advanced vehicle (MECV) and the future combined light tactical vehicle (JLTV).
The 10-ton car has a payload of 3,2 tons, including 4-passengers, as well as an arrow placed in an armored and explosion-proof cabin.
This vehicle has been developed for over a year and, having already undergone intensive testing in more than 25 thousands of miles (approx. 46000 km), is ready for production.
The Saratoga is equipped with a MaxxForce D8L VN 6.0 microlander diesel engine, an automatic differential lock with increased internal friction, an Allison 2100 SP 6-SP automatic transmission (Spain) and an independent air suspension for additional control.
Navistar has developed and tested its own solution to the geometry of the body, ensuring the survivability of the car. Navistar offers a car with a ballistic protection against small
weapons
min, explosions of IEDs and other possible threats. Armored protection is performed by metal or ceramic armor in combination with protection designed to withstand extreme loads without loss of maneuverability, power, torque or payload capabilities. The floor is raised to the highest possible height, which contributes to effective protection against explosions. Thus, the height of the car is 83 inches (1860 mm). To meet the height requirements for naval vessels
fleet
when loading goods, the car uses suspension compression. This reduces the overall height by 7 inches to 76 ", which corresponds to the size of naval transport vessels. The gross vehicle weight is 9,979 tons (22 pounds) with a maximum payload of 000 tons (3,265 pounds). Its length is 7200 m (5,72 "), the wheelbase is 222 m (4,01").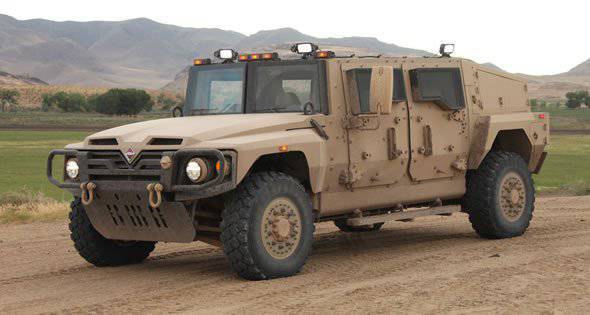 A photo. Saratoga can reduce its height by 7 inches, to 76 "to match the size of naval cargo ships. Photo: Navistar Defense.